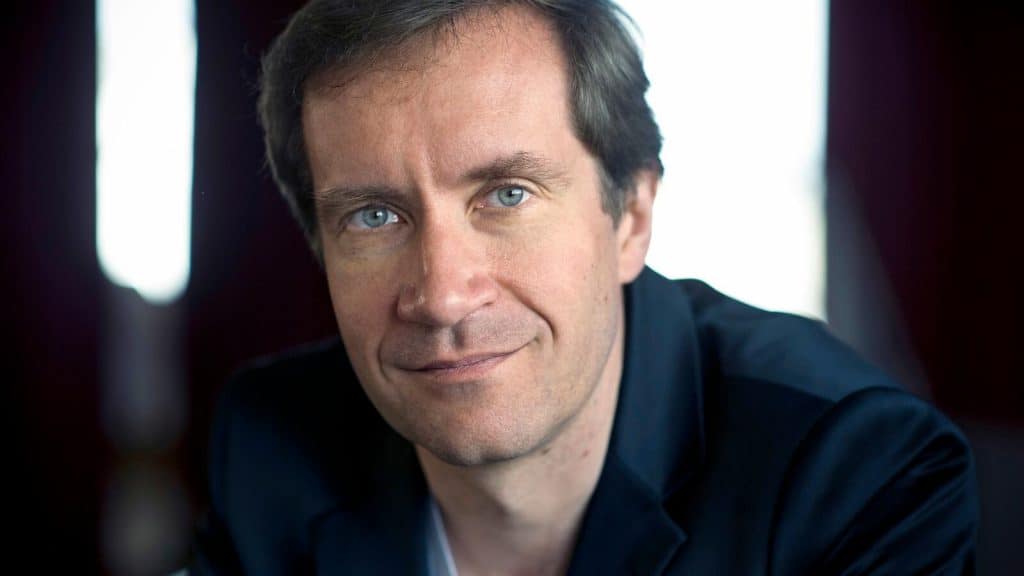 Celebrated Russian pianist Nikolai Lugansky returns to London
05 March, 2019
Nikolai Lugansky returns to Southbank Centre in March 2019, performing the music of Debussy and Scriabin as part of the International Piano Series. Ahead of his arrival here with us in London, we help you discover more about this celebrated Russian pianist.
He mastered the piano before he could read music
Nikolai Lugansky was born in Moscow in 1972, the son of two research scientists; his mother from Tajikistan, his father from rural Russia, they had met whilst students in the Soviet capital. In their home was a small piano on which Nikolai's father would play popular Soviet songs. It was on this piano, as a five-year-old boy that the pianist's talent was first realised, as Lugansky told French newspaper Le Monde in 2002. "One day, I played the melody back to him, to show him that he had played some wrong notes. That is how they discovered that I had perfect pitch."
Invalid slider ID or alias.
He's a fast learner
As you might expect from a pianist who could once hear melodies before he could read them Lugansky is a fast learner, and once notably learned Rachnmaninov's Third Piano Concerto in just three days, playing it by heart on the fourth day. In a 1998 interview with Mundoclassico Lugansky attempted to play down the feat, "I worked eight and nine hours a day for three days, and I learned it. It was not exactly easy, but it is not as hard as one may think. It was simply within my technical possibilities. That is why I could do it."
He was a student of the great Tatiana Nikolayeva
As a student at the Central Moscow Music School and the Moscow Conservatory, Lugansky studied under Tatyana Nikolayeva from the age of twelve. A remarkable pianist in her own right Nikolayeva had won the International Johann Sebastian Bach Competition in 1950, premiered Shostakovich's 24 Preludes and Fugues, and received a Gramophone Award in 1991. Lugansky has often praised Nikolayeva's teaching, including in a 1996 interview with Gramophone. "The biggest difference between Nikolayeva and most of the professors at the Moscow Conservatory was her individuality; she was an extraordinary person. So many things changed in Russia during her lifetime, but she had the most tremendous spirit. She was someone who really loved life". Their partnership would last nine years until Nikolayeva's untimely death in 1993, and the pair would often practice on adjacent pianos in the tutor's Moscow apartment.
His hero is Michelangeli
Lugansky has spoken championed the work of many of the great pianists, but his hero is most certainly the Italian classical pianist Arturo Benedetti Michelangeli. Considered one of the greatest pianists of the twentieth century Michelangeli's reputation as a perfectionist was reflected in his possessing of a relatively small concert repertoire for a man of his indisputable talent.
He's a keen chess player
When not running his fingers over black and white keys, Lugansky likes to move them over black and white squares, as a keen chess player and has reportedly won prizes in musician-only chess competitions. "In Moscow, musicians play chess to a very high level. Chess can be an art, but music is not a game," he told Pianist in 2004. Combining his passion for chess and music Lugansky performed a special concert to open the 2013 Alekhine Memorial International Chess Super-Tournament at Paris' Louvre Museum.
His performances of Tchaikovsky catapulted him onto the global stage
In his late teens and early twenties Lugansky's reputation had been growing, with prize-winning performances both in the Soviet Union and Europe, including a Silver Medal at the 8th International Bach Competition in Leipzig whilst still only 16 years old. In 1994, still just 22 years old, he won Silver Medal at the International Tchaikovsky Competition in Moscow, with his performance at the Winners' Gala recorded and released internationally.
His website is an unintentional internet history lesson
Lastly, if you're too young to remember the internet's early years, Lugansky's lovingly curated website is certainly worth a visit. A site crafted so personally it suggests the pianist himself is holed up in a study somewhere at a giant desktop computer turning his highly skilled fingers to html between concerts. It may be hard to believe for the Gen Zs among you, but fifteen years ago every website looked like this.
Nikolai Lugansky plays Debussy and Scriabin at Southbank Centre's Queen Elizabeth Hall as part of the International Piano Series on Tuesday 26 March. Buy ticket 
Thank you, Southbank center!
×
SUBSCRIBE
Receive our digest once a week with quality Russian events and articles
SUBSCRIBE
Receive our digest once a week with quality Russian events and articles