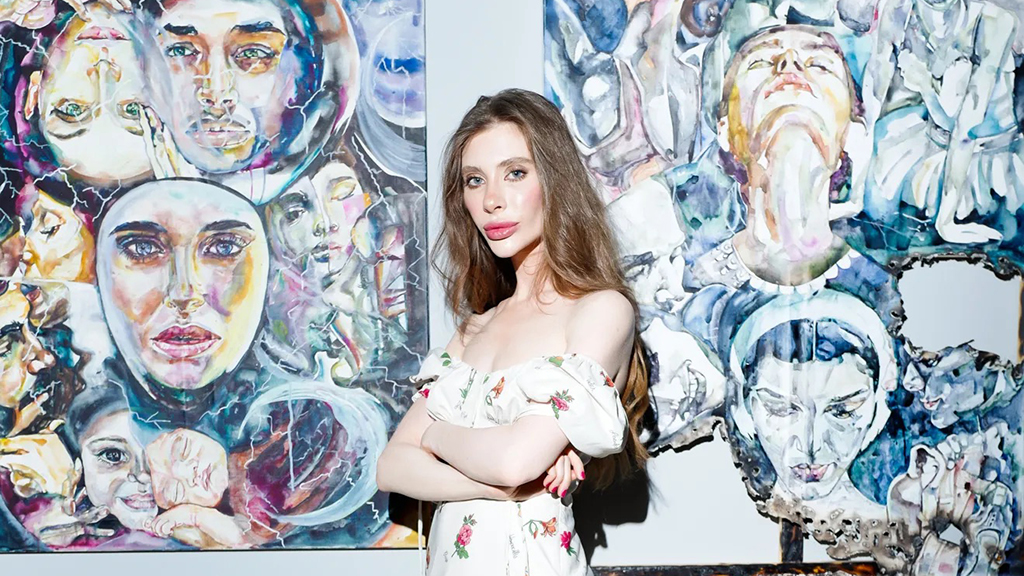 Kseniia Fleisher: artist exploring the depth of human emotions
Afisha.London magazine continues to talk about interesting talented artists, their creative paths and works. The hero of this material is Kseniia Fleisher, a young and promising artist from Moscow who works in the genre of watercolor painting.
Kseniia Fleisher was born in 1991 in Siberia, currently lives in Moscow and actively influences the situation with the external environment. In less than a year, Kseniia's works have been presented at prestigious exhibitions in the UK, Germany, the USA and at one of the most prestigious Russian venues — the Tretyakov Gallery.
Kseniia works in the genre of watercolor painting. Her style is characterized by plasticity, expression and sometimes even unpredictability. In her original watercolors, the theme of psychologism in art is echoed by the absolute diversity of natural sensations, their closeness, susceptibility, sensuality and changeability.
"Her art resonated with me on a deep level, and I was amazed by her watercolor painting technique. As a ceramic artist, I am always looking for new ways to apply paint to various surfaces in search of inspiration for my glazing techniques. Kseniia has a very subtle skill of applying watercolors to canvas, which makes it very similar to washing off with oil paint, and I find it very intriguing. The subjects of her paintings amaze me with their depth of thought. Her curiosity about human nature makes Kseniia's art instantly recognizable. Her ability to have an encouraging tone, raising topics such as overcoming anxiety and finding the courage to express her emotions, immediately resonates with the audience," writes Irina Razumovskaya, ceramic artist, tutor at the Royal Academy of Arts, founder of the Decima Clay Stufio art School in London, about Kseniia.
It is worth noting that it is not only artist's opinion, but also a specialist's with extensive experience working with international exhibitions: Irina's works can be found in the collections of Chatsworth House in the UK, Mashiko Museum of Ceramic Art in Japan, Yinge Ceramics Museum in Taiwan, Icheon World Ceramic Center GICB in Korea, the Foundation for Contemporary Ceramic Art in Kecskemet, Hungary, the Yerevan Museum of Modern Art in Armenia and in many private collections around the world. Of course, such experience helps to feel how promising and in demand the emerging talent will be.
Kseniia is distinguished by a unique ability to see and capture an infinite variety of all kinds of experiences, their subtle nuances and shades. Moreover, the artist does not turn to the dichotomy of "joy-sorrow" or "good-evil" in their habitual realistic embodiment. On the contrary, each of her paintings contains a whole range of sonorous, bright chords — sometimes opposite and contradictory emotions. Each canvas is a real encyclopedia of human feelings, consisting of the most complex, bizarre, and more often paradoxical combinations of spiritual vibrations. Looking at Kseniia's paintings, one involuntarily begins to believe that everything that is around us directly depends on the energy of our collective imagination and mood.
Follow us on Twitter for news about Russian life and culture
As Kseniia says, she has always felt art in her life — it has been with her since birth. She has been drawing since childhood, studied at an art school with excellent grades. She was best at painting, especially watercolor. She always got great pleasure from achievements in creativity. At that time, she still did not understand that it was painting that had such a positive effect on her.
"Creativity is my life," says Kseniia Fleischer. "Painting is my work, filled with love for what I do and meaning. One day, I asked myself, what can I do best? And the answer was obvious to me."
Kseniia describes herself as a very emotional person, thanks to which her life has always been quite eventful. At the same time, according to her, until 2019, she never tried to look at everything that happens in her life through the prism of art. The key event for this realization was her meeting with her husband and the birth of a child.
According to the artist, Lucien Freud, Jenny Saville and Paula Rego had a huge influence on her work. It was after meeting these authors that she finally realized that she would devote her whole life to figurative painting.
She paints her works intuitively, without sketches. All the images reflected in her works are echoes of her own feelings and reactions to events that occurred at different periods in her life. Her work is imbued with empathy and a subtle ability to capture and convey the versatility of human experience.
With her paintings, Kseniia strives to demonstrate to the audience that many of us are united by similar experiences. Plunging into the atmosphere of her canvases, the viewer shares joy with her and finds solace in the realization that even the most difficult experiences are peculiar to us all.
Cover photo: Glamour
---
Read more:
Leading auction houses Sotheby's, Christie's and Bonhams call off Russian art auctions
Oxana Geets: sculptor pushing the boundaries of ceramic art
The Royal Collection has withdrawn its items from the exhibition in Moscow
×
SUBSCRIBE
Receive our digest once a week with quality Russian events and articles
SUBSCRIBE
Receive our digest once a week with quality Russian events and articles