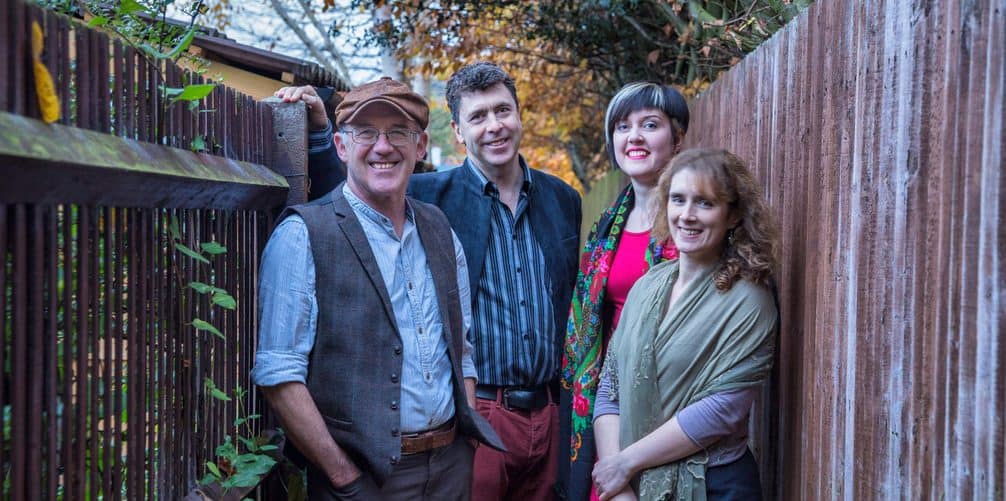 Daria Kulesh & Marina Osman // KARA — an evening of Russian music
Thu, 14 September
8 : 30 PM
A feast of Russian music, folk & fusion: Daria Kulesh & Marina Osman // KARA
Daria Kulesh (vocals, guitar, shruti box) and spectacular pianist Marina Osman will transport you with passionately delivered, charming and nostalgic Russian folk & film favourites mixed with original songs.
Daria Kulesh
Russian-born but now settled near London, Daria Kulesh combines a "refined and cut glass crystal voice" with strong Russian and Ingush heritage, conjuring a beguiling romanticism. Her debut solo album 'Eternal Child' was described as "phenomenal" by FATEA Magazine and her second solo record 'Long Lost Home' has already won awards both in the UK and in Russia, praised as a "masterpiece", a "triumph", "10/10". From performing in a resident band at an Irish pub next to the Kremlin to singing at a charity gala at the former Moscow Governor's palace; from busking in Nova Scotia, Canada to playing at Cadogan Hall and the Southbank Centre; from the folk clubs of Hertfordshire to the mountains of Caucasus, Daria's musical and personal journey is turbulent and varied – and her vibrant, soulful performances reflect that.
"Literate songs powerfully sung… Bold, exotic, impressive" (fRoots)
"Haunting and enigmatic" (Times)
"One of the most beautiful songs of the last 10 years" (Mike Harding)
"One of the most refined and enjoyable voices around" (Folk All)
"Delivered with a passion that only Daria can summon up" (PTMQ)
"So vibrant and makes one feel glad to be alive" (Art of Jazz)
Marina Osman (piano)
Marina Starastsenkava Osman, originally from Belarus, is a graduate of the Belarussian State Conservatoire. An accomplished performer as well as teacher, she was awarded a badge "For contribution to the cultural evolution of Belarus" by the Ministry of Culture of the Republic of Belarus in 2008. In 2007, she was a judging panel member at International Chamber Ensembles Competition 'Nova music' in Latvia. She has also performed in Poland, Germany, Lithuania and Russia, having recorded several programs for 'Orpheus' Russian music radio and Russian TV with the classical music expert Mihail Kazinik in 2009. Since 2011, Marina has been based in London, focusing on training young musicians for ABRSM exams.
KARA (Daria Kulesh, Pete Morton, Phil Underwood and Kate Rouse) will also be appearing with an exciting Russian-themed set.
KARA have a unique Anglo-Russian fusion sound combining original material with traditional folk for a rich mix of songs and tunes; hammered dulcimer, guitar and melodeon back the striking lead vocals in original material laced with music from around the world. One of The Telegraph's Best Folk Albums of the Year.
"Four part harmonies that captivate the room. The sound is bigger and they are magnificent" (FATEA)
"A stunning mix of English music and Russian folklore" (Folking.com)
"KARA are without doubt one of the most creative bands around at the moment" (Folk All)
"Celebrated and quirky Russian-English folk fusion makes them unique" (PTMQ)
"Deeply magical to the ear" (She Dances in the Mind)
SUBSCRIBE
Receive our digest once a week with quality Russian events and articles