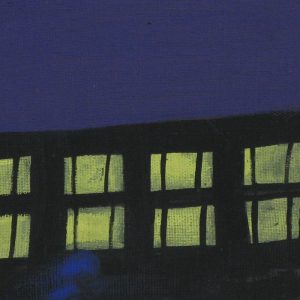 Exhibition: Ivan Sotnikov. Battle with the Squirrel. 10 March – 22 April
10 March - 22 April

10 : 00 AM
White Space Gallery and Cultural Dialogue present the first UK solo exhibition of works by Ivan Sotnikov (1961-2015), one of the most outstanding and prolific artists to come out of the legendary non-conformist scene of 1980s Leningrad.
The exhibition at White Space brings together a selection of Sotnikov's paintings from his Battle with the Squirrel series. Executed in the last few years of his life, the works encapsulate the distinctive artistic mythology and iconography present throughout his career. They harness the classic Soviet cultural pantheon (for example fir-trees, probably Sotnikov's most reoccurring and favourite motif), and portray the artist's passions, struggles, victories and downfalls.
The exhibition also features a rare three-dimensional work, Utyugon (1982/2014). Part sculpture, part sound-piece, Utyugon is a fantastical musical instrument made of scrap metal, domestic irons and a wooden kitchen table which could be amplified with pickups. The suspended at irons, hanging below the table on wires were manipulated by knives to create unusual sounds. First played by Sotnikov at Club-81, Leningrad in 1982, its presence in the exhibition reveals an additional, performative dimension to the artist's uncompromising approach offering a savage expression of creative and personal independence and a concrete celebration of his stylistic recklessness. Bold to the last, the works on display show a unique ability to confront private demons through a public practice.
Ivan Sotnikov (1961-2015) lived and worked in St Petersburg, where he studied art and photography at the Aleksandrov Professional Lycée, and later at the Orthodox Saint Tikhon Theological University, Moscow (2002–06). Over the years he worked with folkloric symbol systems, sound-extractions, music, cinema, publishing, and journalism. In 1996, he was ordained as a Russian Orthodox priest and from the late 1990s served in a parish in the village of Rogavka situated between Novgorod and St Petersburg. In 2015, The New Museum in St Petersburg held Ivan Sotnikov: Painting of the 20th-21st Century, the artist's first retrospective exhibition with over 100 works produced from the 1980s to the present decade, from public (the Russian Museum and Novy Museum) and private collections. His works are in the collections of The State Russian Museum, Victoria and Albert Museum and Centre Pompidou.
Exhibition open 10 March – 22 April 2017.
Tuesday – Saturday, 10 am – 5pm.
Private View: Thursday 9 March 2017, 18.30 – 20.30
White Space Gallery in collaboration with Cultural Dialogue. 6 Pall Mall East, London SW1Y 5BF (entrance from Whitcomb Street)
Nearest tube: Charing Cross (National Gallery exit)
www.whitespacegallery.co.uk
Source: russianartandculture.com
×
SUBSCRIBE
Receive our digest once a week with quality Russian events and articles
SUBSCRIBE
Receive our digest once a week with quality Russian events and articles