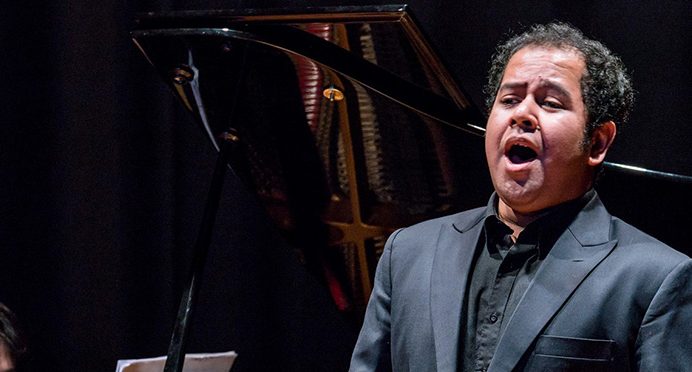 National Opera Studio Recitals
05 December - 05 March
1 : 00 PM
National Opera Studio presents free recitals in the London Coliseum public event spaces. The National Opera Studio is a world leader in opera training and following their highly successful free recitals in Wandsworth, they join us at the London Coliseum for a series of four exciting recitals showcasing the next generation of operatic talent. Each free hour-long recital will feature songs and arias closely aligned to main stage productions at the London Coliseum, home of English National Opera.
5 December, 1.00 pm
A recital of Russian and winter-themed songs and arias, to coincide with the English National Ballet performances of Tchaikovsky's Nutcracker.
Performers
Kseniia Nikolaieva mezzo-soprano
Samantha Oxborough mezzo-soprano
Frederick Jones tenor
Juliane Gallant répétiteur
16 January, 1.00 pm
A recital of French and Spanish songs and arias which have been inspired by the music and culture of Spain, highlighting ENO's forthcoming production of Bizet's Carmen
Performers
Julieth Lonzano soprano
Luis Aguilar tenor
Shengzhi Ren tenor
Kyu Choi baritone
Fernando Loura répétiteur
26 February, 5.00 pm
A pre-performance recital of songs and arias by Italian composers from the late 19th and early 20th centuries.
Performers
Alexandra Lowe soprano
Elizabeth Lynch mezzo-soprano
Msimelelo Mbali bass
Mairi Grewar répétiteur
23 March, 1.00pm
A celebration of Mozart, featuring arias and duets from his best-loved operas. (repertoire by 1 November).
Performers
Eliza Boom soprano
Ella Taylor soprano
Benson Wilson baritone
Bradley Wood répétiteur
×
SUBSCRIBE
Receive our digest once a week with quality Russian events and articles
SUBSCRIBE
Receive our digest once a week with quality Russian events and articles