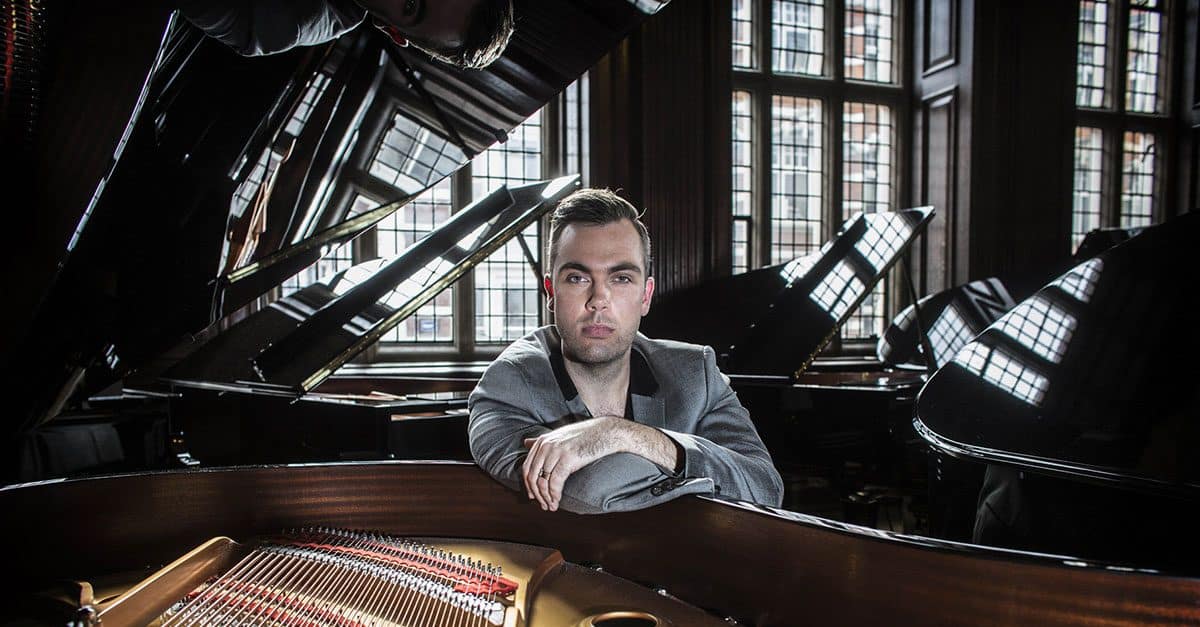 Piano Recital: Nicholas McCarthy
Tue, 12 November

7 : 30 PM
Nicholas McCarthy was born in 1989 without his right hand and only began to play the piano at the late age of 14 after being inspired by a friend playing Beethoven's Waldstein Sonata. Having once been told that he would never succeed as a concert pianist, Nicholas would not be discouraged and went on to study at the prestigious Royal College of Music in London. His graduation in July 2012 drew press headlines around the world, being the only one-handed pianist to graduate from the Royal College of Music in its 130-year history. In March 2018 he was awarded honorary membership by its President, HRH The Prince of Wales.
Nicholas is a champion of the dynamic and brave world of left-hand alone repertoire, a repertoire that first came into being in the early 19th Century and developed rapidly following the First World War as a result of the many injuries suffered on the Battlefield. Paul Wittgenstein was responsible for its 20th Century developments with his commissions with Ravel, Prokofiev and Benjamin Britten amongst others.
He performs extensively throughout the UK including major venues such as The Royal Albert Hall. Internationally Nicholas has toured and performed in France, Belgium, Holland, South Africa, South Korea, Malta, Kazakhstan, Japan the U.S. and most recently a six-city tour of China. One of Nicholas's proudest moments was performing with the British Paraorchestra at the Closing Ceremony of the 2012 Paralympic games where they played alongside Coldplay and gave a rendition of the Paralympic anthem in front of an audience of 86,000 people and half a billion worldwide viewers.
Programme
Bartok Etude for the Left Hand
Cooper Galilean Moons (Premiere)
Strauss Morgen! (arr. Mann)
Reinecke Piano Sonata for the Left Hand
Bach Chaconne in D Minor (arr. Brahms) 
Bellini  'Casta Diva' from opera "Norma" (arr.Fumagalli)
Scriabin Prelude and Nocturne for the Left Hand
Rachmaninov Prelude Op 23 No 5 (arr. Cimirro/McCarthy) 
×
SUBSCRIBE
Receive our digest once a week with quality Russian events and articles
SUBSCRIBE
Receive our digest once a week with quality Russian events and articles