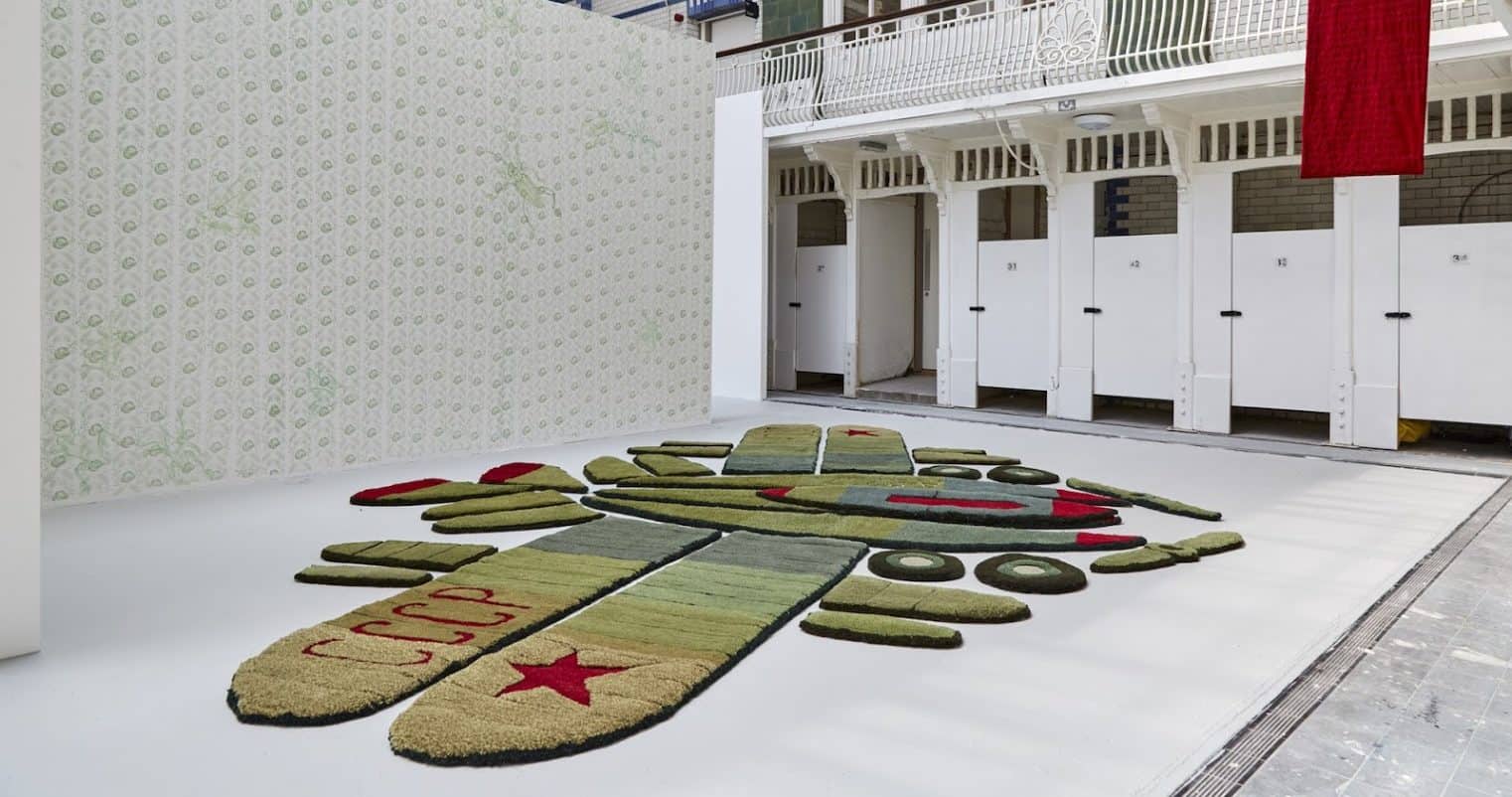 Varvara Shavrova's solo presentation 'Inna's Dream'
06 November - 20 December
Patrick Heide Contemporary Art is pleased to present Inna's Dream, Varvara Shavrova's fourth solo presentation at the gallery and a continuation of the artist's ongoing quest into her family's history, asking questions about power, authority and male and female representation as well as the interface between individual and collective history. The installation, which was initially presented in a different form as part of Shavrova's Masters project for the Goldsmiths MFA Fine Art Degree Show in 2019, departs from the invention of the first Soviet amphibious airplane – the Sh-2 – in the 1930s. It was the first Soviet mass-produced flying boat and designed by the artist's great uncle, Vladimir Shavrov.
Shavrova's version of the Sh-2 is scaled down and re-made as a three-dimensional textile body, nevertheless still bearing features of its magnitude and complexity. The hand-tufted set of individual components measures 7 by 5.5 meters and is completed by a site-specific wallpaper drawing – a reminder of Shavrov's apartment as the birthplace of this first Soviet amphibious plane. In the gallery the airplane seemingly bursts out of the space and its semi-domestic setting and leaves the visitors with a feeling of unease and misplacement while having to assemble the individual sections of the plane in their imagination. Presented alongside the installation is a series of scroll-like drawings on wallpaper that feature the technical specifications of the aircraft, portraits of Shavrov and images of insects.
Inna's Dream is like a journey into the future with stations in the past and the present. In Shavrova's words, empathy is the means of materializing the past into the present. A manifestation that becomes a physical experience in space and time in the form of tangible, aesthetic objects and installations.
Shavrova (born 1970, Russia) can be considered a global citizen having lived and worked in Moscow, London, Beijing and Dublin where she is now currently based. She studied at the Moscow Polygraphic Institute and at Goldsmiths College, University of London. She had many public exhibitions, amongst others at the Moscow Museum of Modern Art, the Espacio Cultural El Tanque in Santa Cruz de Tenerife and the Gallery of Photography, Dublin as well as across several institutions in China.
×
SUBSCRIBE
Receive our digest once a week with quality Russian events and articles
SUBSCRIBE
Receive our digest once a week with quality Russian events and articles
error:
Content is protected !!