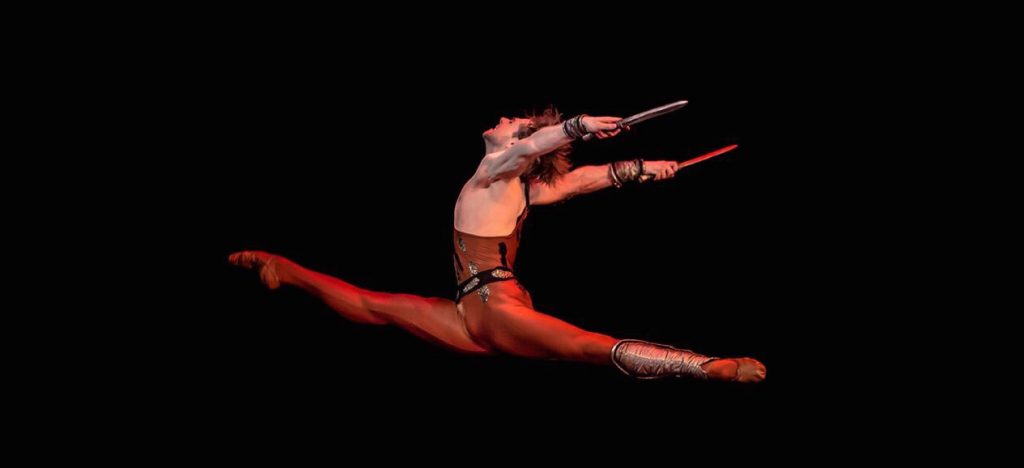 Interview: Dancer Vladimir Shklyarov talks about the ballet
10 August, 2017
"I allow you to do it", told me the theatre director Valery Gergiev
The Mariinsky Theater company is visiting London with a three-week tour. The program includes Don Quixote, Swan Lake, La Bayadère, Anna Karenina and the dance performance Contrasts. Until August 12 on the stage of the Royal Opera House you may see the last classical production-  La Bayadère. Our editor was lucky to talk about contemporary ballet and life of dancers with Vladimir Shklyarov, the principal of the Mariinsky Theater and the Bavarian State Ballet.
 
Vladimir, what is the life of a ballet dancer? It seems to be terribly difficult when you watch from outside – all these numerous performances, long rehearsals, incredible physical activities …
When you get involved in the process, it is not so complicated. It is just necessary to have certain physical abilities especially for the classical performances. For a man this is important to have a beautiful figure, long legs, a good foot lift. You need to be strong, have stamina, and so on. If you have these from nature, then ballet won't be complicated.
Obviously you constantly need to maintain good shape…?
Of course! You need to keep yourself in shape and not just in class. One class lesson is not enough. There must be some physical exercises in the gym with weight, pilates works well too. You have to practice to keep fit. I'm lazy in this sense and I blame myself – I would like to be more disciplined. But after performances it is quite difficult to fall asleep and then you have long hours in bed. After ballet performance you get exceptionally strong emotional excitement. My male roles like princes, romantic young men, are rare in everyday life. In ballet they are ready for anything for the sake of their love! I live the life of the character on the stage and it is very difficult to calm down emotionally after the performance, from the ramp lights  and audience applause.
Even though you are exhausted physically?
You are right, usually you are on the edge of fatigue, but still can't fall asleep. It seems from a side you might fall down, but no! Like yesterday for example, after I danced "Swan Lake" – could not sleep until six in the morning! I remade everything at home that I could, watched the film I wanted to watch for a long time ("The Time of the First"), read Dostoevsky's "Player", did other things and still couldn't fall asleep.
Are physical injuries common in ballet?
There are certainly injuries, but mostly these are micro traumas, like pulled muscles. This is the reverse side of the profession. Almost every dancer comes to the stage with injuries. As my ballet predecessors said, if you do not have any pain, then you are a corpse. This is a very suitable expression for ballet dancers – both men and women – because everyone has pains and aches, more or less. This is a norm. I came not from a ballet family and had no idea what it is to be in ballet. Hence at first, my family and I immediately began to worry with any pain I had. They offered to get the sick leave. Then it turned out to be perfectly normal for all dancers.
How did it happen that you came to ballet not from a ballet family? What is the story?
Well, I think this is pretty ordinary story. My mum really wanted to dance herself, she adored ballet and dreamed to be a ballerina. She saw herself dancing, coming to the stage … I turned out to be a guinea pig for her. Well, I'm joking, of course. Anyway she realised her dreams in me. Although later in my adult life, I understood that I like what I am doing, that I have strong abilities for dancing classical ballet.
Do you have a favourite role?
Currently it is important for me who is my partner on the stage, particularly in duet. I always depend on my partners. Another important part is the orchestra – how it sounds, its tempo. Of the latest bright performances was a duet with Natalia Osipova, when we danced "Marguerite and Armand" this June in London in the Royal Opera House. We have known each other for a long time, the ballet circle is quite small. This time it was a great result – sincere feeling of dissolving in your partner, perfect chemistry. We managed to show the very best of love and betrayal. Personally, I am very close to Romeo image in "Romeo and Juliet". I danced in several ballet interpretations.
In addition to productions of Leonid Lavrovsky, John Cranko and Martin Freeman, I would like very much to dance Romeo in the choreography of Kenneth Macmillan. From the latest Mariinsky Theater productions I like the Bronze Horseman – the story of Parasha and Eugene. This is such a male version of "Giselle", a man who lost his beloved, goes mad. I love playing different characters. Like Eugene, enamoured young man turns into an absolutely insane person who is now ready to kick with his fists his idol Peter, the Bronze Horseman.
From recent time, you combine service in the Bavarian State Ballet with the Mariinsky Theater. In one of the interviews you said that you were persuaded to remain in Mariinsky by director Gergiev. Was it a difficult conversation? Gergiev is known for his jealous attitude when dancers are leaving his theatre… How did he convince you?
He did not persuade me to stay, but rather gave me the opportunity to try dancing in Europe. He went to meet me, listen to me, understood what I was missing in the Mariinsky. The ballet dancer lifespan is very short, I am already 32, close to retirement age. There are a lot of desires and ambitions. We travel a lot around the world and see the work in other companies. We see ultra-contemporary choreographers and of course, you want to try yourself there. Valery Gergiev gave me a chance and allowed to combine jobs. By the number of performances, I got a slight advantage of the Mariinsky Theater, although in Munich I spent more time. For the entire season there I danced eleven premiers, ten of them were in Munich. Ten leading production roles is a lot! In the Mariinsky Theater in recent years, I danced one or two new plays. Of course, there is a difference. Plus there were two new performances – premieres: "Spartacus" by Yuri Grigorovich (he came personally to the premiere night) – and "Alice in Wonderland."
Have all the premieres been successful?
Hard to say, I'm a perfectionist in my work, always look for better. Speaking of "Spartacus", I can say that practically no one believed I would manage this role. But it was good to dissuade these people and prove them wrong.
By your opinion in what condition is modern ballet? Is the classical ballet changing? Is there anything in the contemporary that piques your interest? I was brought up in classics, so this classical ballet always stands apart for me. It's important to dance classical performances, it is difficult without it in our profession. Classics must be present. If we talk about St. Petersburg, ballet "Swan Lake" is a kind of main image of the Mariinsky Theater, it's always sold out. It was sold out yesterday in London as well. Every single seat was occupied, even the side lodges near the stage. But at the same time I want to try myself in contemporary ballet. Something even underground – express myself through the body, facial expressions, gestures, find synthesis with a voice.
I have seen many productions of talented choreographers of modern ballet. London overtakes St. Petersburg in this field. London has one of the most striking choreographers of our time, Wayne McGregor. I was so fortunate to work with him when he brought his "Infra" to St. Petersburg.
At the Mariinsky Theater there is a studio of creative young people, they do performances every year, some new projects, and many of them have the regular nights in the theatre. So it all goes in good direction. But as always you want everything to develop faster and faster, participate in everything and not miss anything.
Margarita Bagrova and Olga Pavlova
For RussianEventsLondon
×
SUBSCRIBE
Receive our digest once a week with quality Russian events and articles
SUBSCRIBE
Receive our digest once a week with quality Russian events and articles