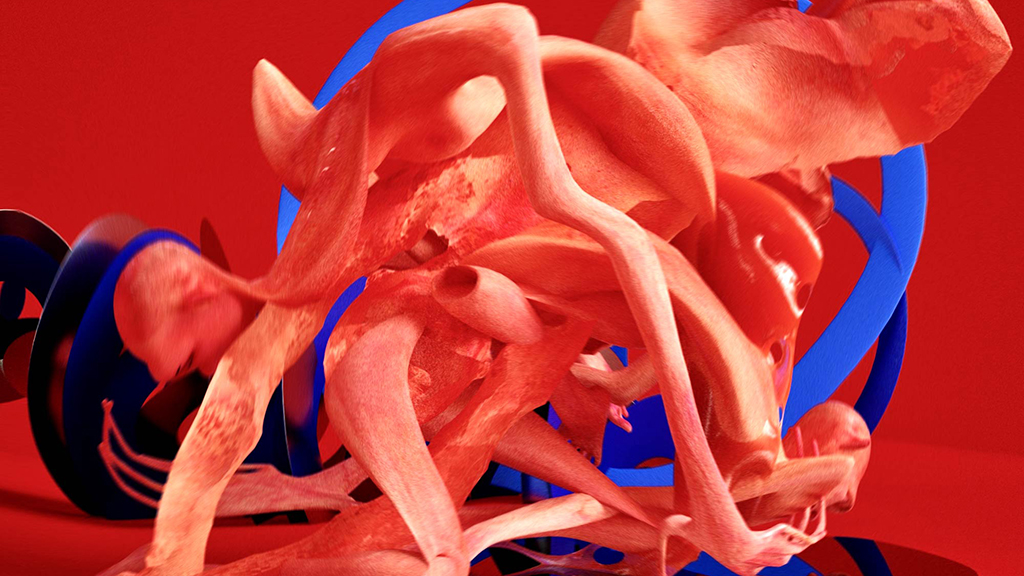 Margarita Raeva: an artist who encourage a dialogue on forbidden topics
Afisha.London magazine continues its column in which it introduces readers to interesting creative people: artists, photographers and artists. The hero of this material is Margarita Raeva, an artist from Moscow who is not afraid to encourage a dialogue on forbidden and uncomfortable topics.
Margarita Raeva is a digital artist, designer, and art director from Moscow. Her interest in art has been manifested since her childhood — Margarita studied in an art school and attended numerous creative clubs, which later played a key role in her choice of profession. Margarita graduated from the British Higher School of Design majoring in multimedia design, and since 2020 she has been studying at the Rodchenko School of Multimedia and Photography. She works with digital art, video art, sculpture, and applies these tools in complex multimedia projects.
Margarita works with themes of corporeality, sexuality, and gender identity. A separate place in her works is occupied by the problems of environmentalism in art and eco-evangelism in general. For her, art is a way to encourage a dialogue on forbidden and uncomfortable topics, to think about acute and important issues of reality. The artist draws inspiration from her experience of intuitive exploration and interaction with nature, the discovery and exploration of her own body, the experience of trauma and the search for her own self. Another powerful source of inspiration for the heroine is the work of artists who also explore the theme of the body and identity: Sarah Lucas, Barbara Hammer and Kiki Smith.
Follow us on Twitter for news about Russian life and culture
As art historian, art critic and former MMOMA curator Medea Margoshvili notes, Margarita's close attention to the processes of nature underlines her desire to create her own world, full of organisms, free of human conventions, but not devoid of sensuality. Margarita works with 3D graphics as one of the main mediums, and the peculiarity of her works is that by inventing virtual spaces and a new digital corporeality, the artist brings into the three-dimensional artificial world a sense of error and inaccuracy, a slight absurdity and fragility, thus reducing the distance between the viewer and the work of art.
In recent years, Margarita's artistic handwriting has become brighter and bolder, and the ratio of abstract geometric forms and corporeal fragments now truly challenges the laws of physics and redefines the aesthetic language of the digital image. In contrast to her quieter earlier works, the artist now uses saturated colors that link seemingly disparate elements into dynamic compositions with vivid expression.
In addition, Medea notes that Margarita's work, at the level of aesthetics, is influenced by post-war artists — not only Francis Bacon, but also Lucien Freud, Joseph Beuys, and others who initiated work with the material of the painting as a separate type of corporeality. On the other hand, there is the considerable influence of media-art: there is Bill Viola, with his meditative but unimaginably elaborated narratives, and AES+F with their monumental video epics. All this shapes the heroine's visual language, but it is still important to emphasize that Margarita works in her own manner, which is largely defined by her superior skills of instrumentation and conceptualization.
Margarita often performs in collaborations with visual and sound artists and professionally designs, art-directs and teaches 3D graphics. The artist actively participates in international exhibitions and events. For the last year her works took part in the Digital Art Biennale at MAMM in Moscow, at exhibitions at Krasnokholmskaya Gallery, Electromuseum, PL studio in London, WDT Gallery in Middlesbrough. In addition, Margarita's work has participated in numerous video art and experimental film festivals.
Cover photo: Margarita Raeva, Parts unfixed I, 2022 (fragment)
---
Read more:
Anna Kiparis: an artist who paints with light
Lilia Bakanova and Evgenia Makarova: artists who are not afraid to experiment
×
SUBSCRIBE
Receive our digest once a week with quality Russian events and articles
SUBSCRIBE
Receive our digest once a week with quality Russian events and articles