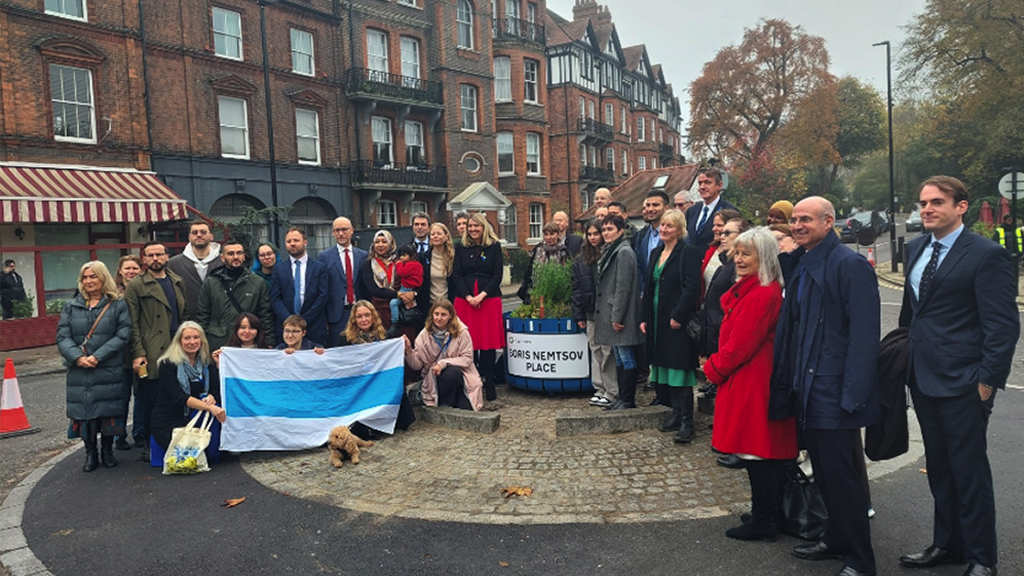 Boris Nemtsov Square opened in London
London has a lot of places which names are linked to Russia: Moscow Street, St Petersburg place, Little Russia – we wrote about them in our article not so long ago. Recently, however, a new place appeared in London named after a figure from very recent Russian history – Boris Nemtsov, a politician who spoke out against Vladimir Putin and his regime and was murdered in Moscow in 2015. The Camden Borough Council gave his name to a square at a crossroads in Highgate, not far from the closed Russian Trade Delegation. We tell you where to find the square and who fought for the implementation of the project.
Boris Nemtsov (1959–2015) was Deputy Prime Minister of Russia under Boris Yeltsin, and later led the opposition and was openly critical of Vladimir Putin's government. Nemtsov helped educate and inform the public, spoke honestly about corruption cases in the government and the abuses of the Putin regime.
The politician organised democratic rallies in Moscow and advocated the imposition of sanctions against Kremlin officials involved in human rights violations. He also spoke out against Russian military aggression in Ukraine. Having become a visible and effective voice of the opposition, he was assassinated near the Kremlin in Moscow on February 27, 2015. Journalist Mikhail Fishman shared his memories of this difficult day with us:
"The realization of who we lost came instantly, along with splashes of tears from our eyes," Mikhail shared.
To better understand the motives of Boris Nemtsov and the whole magnitude of his personality, we recommend watching the film "Too Free Man" by Vera Krichevskaya and Mikhail Fishman. In an interview with the Afisha.London magazine, the film director suggests how the fate of Russia would have developed if the fateful murder, which shocked the entire liberal society of Russia in those years, had not happened.
Read also: Londongrad: Russian presence in the British capital
And although London has always had many places on the map that are associated with Russian history, Camden is the first place in the UK to commemorate the name of Boris Nemtsov. Previously, squares and streets named after the brave politician appeared in Washington, Vilnius, Kyiv, Bratislava, Prague and Toronto. The Russian authorities prevented the creation of an official memorial to Nemtsov, so his friends and supporters turned to the peoples of the world to help honour the memory of his life and legacy.
Boris Nemtsov Square is located at the intersection of Highgate Road and Swain's Lane – just a stone's throw from the closed Russian Trade Delegation. New street signs and an information board will be installed at this place. Campaign to honour Nemtsov' legacy was led by Vladimir Kara-Murza, a longtime supporter and friend of Boris Nemtsov, until he was arrested in April 2022 and imprisoned in Russia for speaking out against the war in Ukraine. Since his imprisonment, his wife Yevgenia Kara-Murza continues to campaign and work to raise awareness of Boris Nemtsov's contributions to peace and democracy in Russia.
Photo on cover: Camden Council
---
Читайте также: 
Dostoevsky in London and his influence on the British classics
Innovator and romantic Vladimir Nabokov in Britain
Flappers — emancipated women of the 20s in the West and in Russia
Array ( [related_params] => Array ( [query_params] => Array ( [post_type] => post [posts_per_page] => 5 [post__not_in] => Array ( [0] => 92456 ) [tax_query] => Array ( [0] => Array ( [taxonomy] => category [field] => id [terms] => Array ( [0] => 2 ) ) ) ) [title] => Related Articles ) )
×
SUBSCRIBE
Receive our digest once a week with quality Russian events and articles
SUBSCRIBE
Receive our digest once a week with quality Russian events and articles