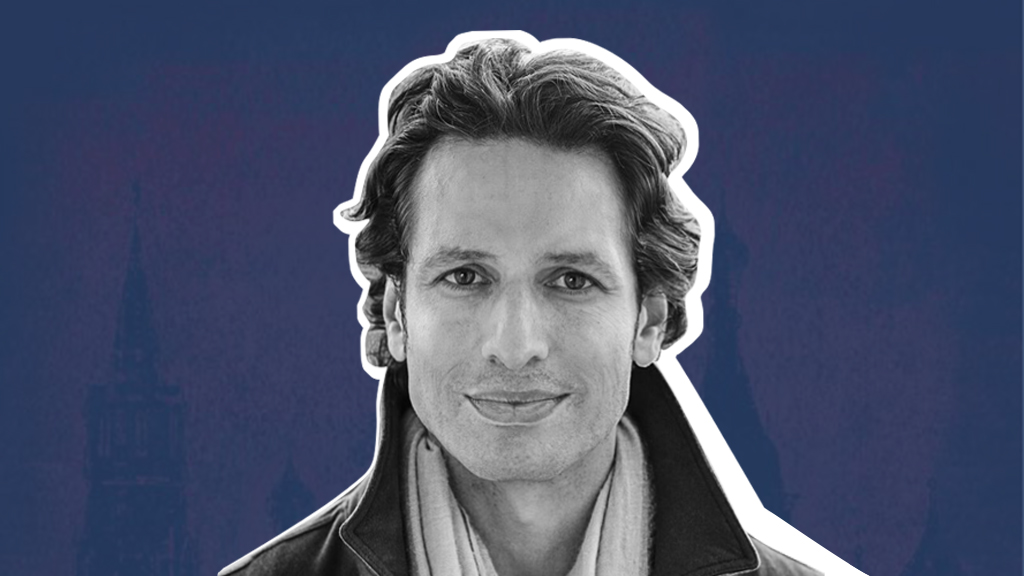 Alexander J Gifford "We're standing up for Russian culture"
Alexander J Gifford is the artistic director of Marylebone Theatre. He grew up in London, in a family of mixed Iranian and British heritage. Having trained as a teacher and actor, he founded a theatre programme for young people affected by conflict called Peace through the Performing Arts, which ran in Israel and South Africa. He subsequently founded the Gloucester Theatre Company, for which he directed a mixture of professional and young company productions, including acclaimed versions of Hamlet, Othello, The Lion, the Witch and the Wardrobe and The Secret Garden. Alexander has made verse translations of three plays by Rudolf Steiner.
Margarita Bagrova, editor-in-chief of Afisha.London, talked with Alexander about his career path, the everyday work of an artistic director and, of course, about the new play Dmitry, which will be shown in Marylebone Theatre from September 29 to November 5.
— Alexander, you have had an impressive creative career. You were in the cinema industry, did some modelling and then came professionally to the theatre. Can you tell us more about it?
— When I was 18, I was spotted by Jean Paul Gaultier. He tapped me on the shoulder in Kensington Market and whoosh! — two weeks later I was on a catwalk in Paris, rubbing shoulders with the top supermodels of the day, like Helena Christensen and others. These were the times of Mario Testino with whom I was lucky to work with. I also starred in a big Anglo-Indian film with some great actors — and all that happened before I started my university. There I studied English literature, trained and worked professionally as an actor. Then got interested in writing, directing and spiritual things. Later, for many years my friend Adrian and I created theatre projects with a social, charitable emphasis in South Africa and Israel.
Eventually we were invited to take over the running of a theatre in Gloucester. I was directing play, running community projects, fundraising, and of course involved in all other aspects of theatre. During this time I became very connected with the works of Rudolf Steiner, who was one of the great thinkers and visionaries of the 20th century. His works greatly impressed me and amazingly Rudolf Steiner House in London decided to refurbish and relaunch its theatre, for which they needed an artistic director. I got the job and immediately proposed that the theatre be renamed the Marylebone Theatre.
— Classic theatre is under the pressure of modern digital technologies, including the fast-growing digital entertainment sector. Being artistic director of a traditional theatre, how challenging new tech is for you?
— Making a theatre is an act of resistance to the direction of culture in our times, which is so much towards the screen. A lot of money in theatre is going towards musicals, so to do a serious drama is harder in terms of getting money, audiences and actors. Many actors want to be doing television and film. On the other hand, I have to say Britain has such a deep theatrical tradition and it's so manifestly rewarding to creative people to work in theatre. There's still a huge appetite for it as long as people are prepared to accept slightly lower rates of pay. It's not an overwhelming challenge for now. We've pulled together a brilliant creative team in my theatre, and I'm relishing taking on that challenge.
— What's your everyday job as an artistic director?
— It's to create the programme of theatre events. My job is to set identity, form vision, connected to Rudolf Steiner as well and make sure everything we do is part of that. I'm very happy and proud about that because a Steiner's ideas were groundbreaking and visionary. Just a year ago, the place looked rather like a community venue. Now after the renovation, the place is looking like a proper professional venue. We've done a lot to lift it to a new level and are starting to attract top actors. We have several celebrities and top people in the British theatre and film supporting us, for example, Mark Rylance, Kenneth Branagh and Derek Jacobi.
— You're opening the theatre with an interesting play Dmitry. Tell us a little more about the plot (without any spoilers of course!).
— This is the story of the false Dmitry, a young man who in 1605 claimed to be the missing son of Ivan the Terrible and persuaded the Polish parliament to back him, to lead an army to take Moscow and overthrow the reigning tsar, Boris Godunov. That's the starting point for our story. Who was this young man? Who were the forces that were backing him? What was the situation in Russia at the time and does that speak in any way to the situation in Russia now? We think it does. There's an interesting parallel that the play explores subtly.
— Have you chosen this play to open your theatre because of this current situation with Russia?
— No. It's a coincidence. We chose to do the play a year ago because Rudolf Steiner wrote about Dmitry in the last years of his life. He said that people had to get an understanding of who the true Dmitry and the false Dmitry were and what happened. He indicated that the true Dmitry could have led Russia in a different direction. His death was a real tragedy for Russia and led to many problems that it then faced over the years, including communism.
The author, Peter Oswald, was originally commissioned to write this play for the National Theatre about 12 years ago. But the National Theatre never performed it. When I got the job and Peter told me he had this play, I was very interested, but I felt it needed some work. We began to work on the script and we've developed it painstakingly for over a year. I think we've made a very powerful piece of drama. This story was initially taken up by the German writer Schiller, whose works Mary Stuart and Don Carlos Peter had translated previously.
Follow us on Twitter for news about Russian life and culture
— What are your connections with Russian culture?
— I fell in love with Russian literature when I was a teenager: Dostoevsky, Tolstoy, Chekhov. Steiner has a lot to say about Russia. He particularly indicates Russia's possible future as a culture that can bring forth the most beautiful social conditions. He calls the Russians the people of Christ. He says they have inherently very spiritual natures that predispose them to create loving social conditions; and this could be a possibility in the future of humanity. But because of that specialness, the Russian people have become especially under attack. Communism was a kind of attempt to derail Russia from its true history, from its true path into the future. When I meet Russian people, there's a sense of beauty and innate spirituality and refinement and then the possibility for corruption of that.
— Dmitry was an unfinished play by Schiller. Did you use some of the ideas of the German author to create your version?
— Schiller did write notes on how the play would have been finished, but I have to say, we have not stuck to that. We've done a very different version, and that's just come out of Peter as a writer, and me in discussion with him.
— Is it not a historical production, is it like a bit of fantasy?
— To a certain extent. It's a gripping thriller. You can almost call it a political thriller: assassinations and battles.
— Did Tim Supple bring something extraordinary to this historical play?
— Tim is a very established director in Britain. He was the artistic director of the Young Vic. We had a reading of the play almost a year ago. Peter and I had worked on it a lot by then: we had 12 actors around a table and Tim was invited. And that was a big moment for me because Tim's a huge director. I was thrilled that he attended and then even more thrilled that after the reading he loved it. He also wanted to work on the script. He became the third man in the triangle. Peter, me and Tim, we worked on the script and staging, with Tim bringing his visionary genius to it. He's brought his colleagues who are all top people: lighting designers, set designers. You can imagine a West End-style production in terms of set and lighting and costumes. It's going to look great and be staged brilliantly because Tim's behind it.
— How many actors are involved in the play?
— 17 actors. Two of them are children.
— How long did it take to rehearse?
— Six weeks only. That's not how we would like to work. That's certainly not how Tim is used to working. Tim is used to much longer rehearsal periods. But in this modern world of theatre-making, you just can't afford it.
— When the war between Ukraine and Russia happened did you feel that your play would be sharper for the audience?
— Yes. I should say, that even before Ukraine erupted, I think a lot of us felt Russia was a simmering issue. It's not like Ukraine came out of nowhere. For years, we've all been wondering what's going to happen there and feeling that there's a world-threatening tension between Russia and the world, Russia and the West.
Some people thought we shouldn't do the play. They said nobody wants to hear anything about Russia. Everybody hates Russia.
Well, there was no hesitation. We feel that Russian culture and its current political leadership are opposite things. In doing the play, we're standing up for Russian culture. I can say hand on my heart that there's a love of Russian culture, we're doing it out of love for the true Russia in opposition to the false Russia that's being represented by the current leadership. It made us more courageous and more excited to do this production. And Tim feels it speaks right through to what's going on now. It's an important piece of theatre to put out now.
— What are your plans after this production?
— We have a whole first season that's now programmed and you can see it on our website. There are really good music concerts, including performances of Schiller's songs on November 10. We have a poetry performance The Waste Land by T.S. Eliot. And then we have a Christmas show. I'm currently programming next season, so I'm pulling together the new productions we'll be doing.
— We hope to see some other productions connected with Slavic culture!
— I'm very much looking for those projects and open to them. A version of The Brothers Karamazov — I've seen one, and I think it could be interesting.
Play "Dmitry"
September 29 – November 5
Marylebone Theatre
---
Read more:
"Dmitry", production based on unfinished play by Schiller, will be shown in London
Mikhail Reznikovych: "Even now, in wartime, people visit the theatre"
Elizabeth II and Russia: a visit to Moscow, a box for Yeltsin and the impressions of eyewitnesses
Array ( [related_params] => Array ( [query_params] => Array ( [post_type] => post [posts_per_page] => 5 [post__not_in] => Array ( [0] => 90720 ) [tax_query] => Array ( [0] => Array ( [taxonomy] => category [field] => id [terms] => Array ( [0] => ) ) ) ) [title] => Related Articles ) )
×
SUBSCRIBE
Receive our digest once a week with quality Russian events and articles
SUBSCRIBE
Receive our digest once a week with quality Russian events and articles