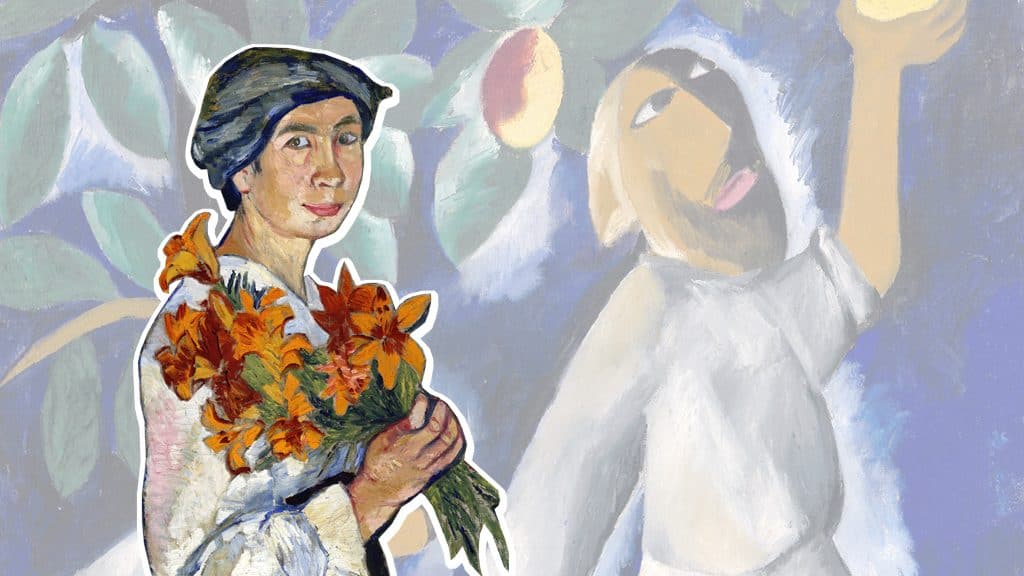 Exhibition: retrospective of Russian artist Natalia Goncharova at Tate Modern
07 June, 2019
This week Tate Modern will present the UK's first ever retrospective of the Russian avant-garde artist Natalia Goncharova (1881–1962). It will be a sweeping survey of a pioneering and radical figure, celebrated during her lifetime as a leading modernist artist. Throughout her varied career she challenged the limits of artistic, social and gender conventions, from parading through the streets of Moscow displaying futurist body art and scandalising newspapers of the day, to creating internationally acclaimed designs for fashion and the theatre.
In 1913 Natalia Goncharova stood at the very center of the radical Moscow avant-garde. Her exhibition that year was a major event: the first retrospective in Moscow of avant-garde woman artist. It comprised over 800 artworks that transcended styles to include paintings and works on paper, designs for theater, textiles and fashion, and much more. Her life-long partner the artist Mikhail Larionov outlined the basis of the tendency termed 'everythingism' by the writer Ilia Zdaneich to describe her non-hierarchical openness to source of artistic inspiration.
Goncharova's painting is full of flaming dreamscapes of folk life and passion for traditional customs. Her talent was to absorb the influences of artists such as Cézanne, Picasso and Gauguin, whose work she saw in the collections of rich industrialists like Ivan Morozov and Sergei Shchukin. Also in those collections were traditional arts and crafts – Russian icons, embroideries, popular prints or luboks, tin tray paintings and painted furniture and farm implements. They informed Goncharova's artistic language as much as recent European art, since they were familiar to her from childhood.
Natalia Goncharova was a famous artist in Moscow when she met a ballet impresario and a founder of the Ballets Russes in Paris performed between 1909 and 1929 Sergei Diaghilev. This was the turning point in her life. In 1914 Diaghilev invited her and Mikhail Larionov to Paris to work on stage designs. After the Revolution, they had no reason to go home. Natalia Goncharova passed away in Paris in 1962, at the age of 81, when the Russia painted by her was already gone.
Julia Mints
×
SUBSCRIBE
Receive our digest once a week with quality Russian events and articles
SUBSCRIBE
Receive our digest once a week with quality Russian events and articles