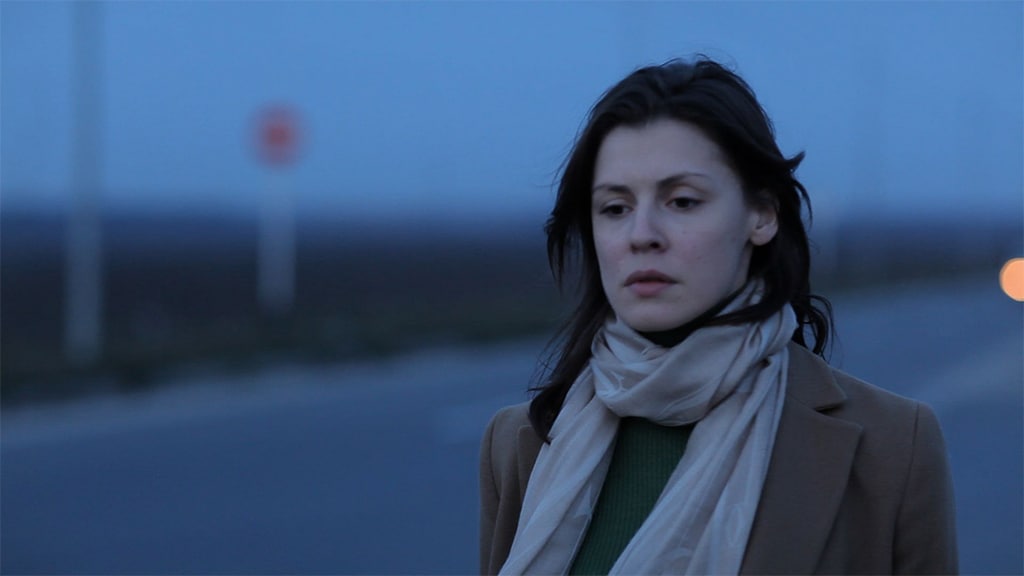 Pick of the week: Angelina Nikonova's "Twilight Portrait" and Georgian auteur cinema
25 February, 2021
This week we invite you to get acquainted with Angelina Nikonova's Twilight Portrait, which is featured in the "Pick of the Week" section on the British streaming platform Klassiki, — a very controversial and complex film. Furthermore, in honour of the Georgia's Fantastic Tavern online festival, we have selected four Georgian auteur films, which can definitely be considered cinematic masterpieces and can also be watched on Klassiki.
The world of cinema is incredibly diverse, but we often miss out on some of its manifestations, while fully dedicating our attention to specific genres. For example, let's take a look at auteur cinema, which as a genre is very multifaceted and includes various subgenres. In fact, one does not necessarily need to explore all of these subgenres in depth in order to form some understanding of this type of cinematic language, so you may as well take a quick dip into the world of auteur cinema and then get back to something more familiar. Afisha.London magazine presents this week's guide to modern Russian and Soviet Georgian auteur cinema, which will certainly leave an impression.
---
Twilight Portrait | Портрет в сумерках
Angelina Nikonova, 2011
Angelina Nikonova's directorial debut definitely falls into the category of auteur cinema, and is a type of film some like to refer to as "not for everyone". Twilight Portrait received substantial praise from critics and festival panels; however, not all were pleased with it. There are many reviews on the internet, and the most interesting thing about them is that they are completely polarized — people either love this film or hate it vehemently. Nevertheless, we can say with certainty that this film deserves attention: it was not for nothing that it debuted at the Venice and London film festivals, and also received an award at the "Kinotavr". This award is especially interesting, since the film won in the category Best Cinematography, while being shot on two simple Canon EOS 5D Mark II cameras.
This film is worth watching if only to determine whether one is an avid hater or a passionate fan — there is no third option. However, one must definitely be warned that this film is not for family viewing; moreover, not every adult would be able to watch it till the end. The main character Marina (Olga Dykhovichnaya) lives in Rostov and is married to a businessman; she has quite a lot of free time, which she spends on social work. However, her life turns completely upside down, when bourgeois Rostov is replaced with marginal Rostov, where she suddenly finds herself. The way she ended up in this position is extremely atypical. Marina happened to be alone at night on the roadside without any means of communication. There she was found by traffic police officers who, instead of helping the woman, raped her. The heroine decided to find the culprit, but instead of cold revenge, she got something completely unexpected.
Watch in excellent quality with English subtitles on Klassiki
---
A cinematic voyage to Georgia
My Grandmother | Моя бабушка
Kote Mikaberidze, 1929
This film with a difficult fate, which fell victim to the harsh Soviet censorship, received recognition only 40 years after its initial release. My Grandmother will delight art and cinema history lovers, for it is a wonderful example of Soviet avant-garde filmmaking. The director used various atypical techniques: for example, he combined a traditional silent feature film with elements of hand-drawn and puppet animation. Censorship befell this film not without reason, as Mikaberidze subtly ridicules the bureaucratic apparatus and the work of the government — so much so that the authorities accused it of Trotskyism and anti-Soviet sentiments. Largely due to its artistic component, this film was not consigned to oblivion and did not remain in the dreary "cinema cemetery" among the numerous victims of Soviet politics.
Watch in excellent quality with English subtitles on Klassiki
---
---
There Once Was a Singing Blackbird | Жил певчий дрозд
Otar Iosseliani, 1970
A truly profound film, which is imbued with wisdom, about a hapless musician named Gia. The main character is constantly in a hurry and running late, however, he always manages to be on time. In all the confusion of his hectic life, he cannot find a moment to take a look around, to think, to contemplate the meaning of his existence. The name of the film is not accidental because Gia, the timpanist of the Tbilisi Orchestra, appears to live just like a songbird — he flies from place to place, while his life seems short even though he is still living it. He has to get home to compose music, but because of trivial matters, which keep popping up, he never gets to complete this most important task. There Once Was a Singing Blackbird is filled with metaphors about the suddenness of life: like a bird's, Gia's life looks short and hectic.
Watch in excellent quality with English subtitles on Klassiki
---
---
Blue Mountains | Голубые горы, или Неправдоподобная история
Eldar Shengelaia, 1983
Here one can sense echoes of both My Grandmother and There Once Was a Singing Blackbird — the plots of these two films seem to merge together and form the narrative of Blue Mountains. Once again, the viewer will be faced with the problems of state bureaucracy destroying everything around it and of people doing literally anything, but what really has to be done. The main character is a young writer Soso, who submitted his story to a publishing house and is awaiting publication. Only his wait is too long. The film has a very metaphorical finale, which shows its main points in a new light.
Watch in excellent quality with English subtitles on Klassiki
---
---
Repentance | Покаяние
Tengiz Abuladze, 1987
It is worth starting with the fact that Repentance is a winner of the Cannes Film Festival Grand Prix, as well as a Golden Globe nominee in the Best Foreign Language Film category. In addition to its artistic significance, this film also carries political and ideological meanings, since it marked the popularization of the anti-Stalinist movement at the dawn of Perestroika. Repentance is a black comedy: the plot is both absurd and sad, even bitter. The action takes place in a small Georgian town where the local mayor is buried. However, the next day after the burial, his body is found dug up, and this is repeated from day to day — the mayor is buried, but someone diligently continues to get him out of the ground. The criminal is discovered, but their story appears to fully justify desecrating the body of the deceased.
Watch in excellent quality with English subtitles on Klassiki
Cover photo: a still from "Portrait at Twilight" (2011)
---
Read more:
Felix Yusupov and Princess Irina of Russia: love, riches and emigration
Justine Waddell on launching Klassiki: a streaming platform for Russian cinema
×
SUBSCRIBE
Receive our digest once a week with quality Russian events and articles
SUBSCRIBE
Receive our digest once a week with quality Russian events and articles