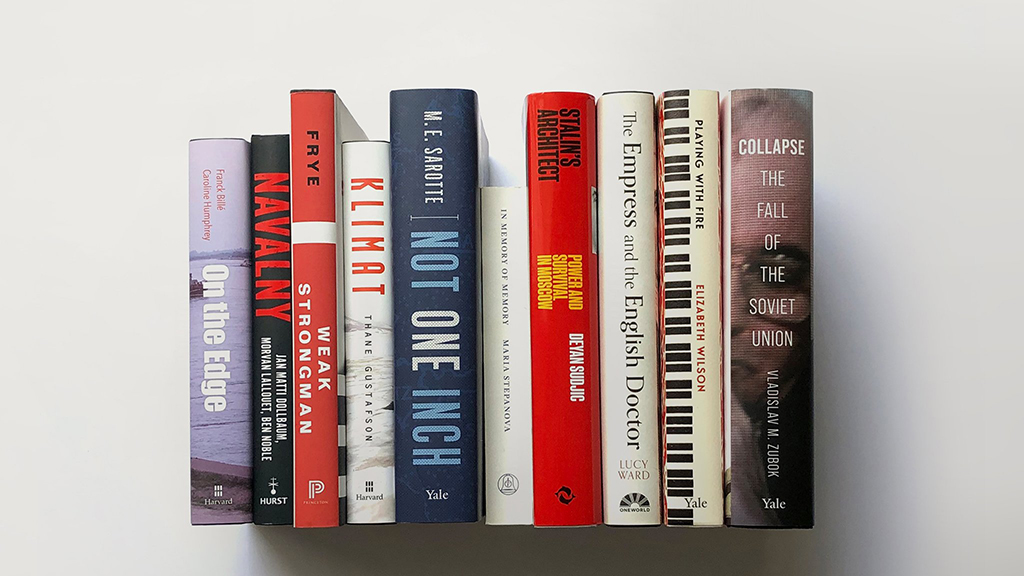 Pushkin House announces shortlist for its 10th Pushkin House Book Prize
The annual Pushkin House Book Prize recognises the very best non-fiction about Russia or the Russian-speaking world, published in English. It highlights books which combine excellence in research with readability and accessibility to the general reader.
Titles on this year's Pushkin House Book Prize shortlist provide insight into cultural life under Stalinism, Soviet family history, climate change, health and life on the Russia-China border as well as the background to the war in Ukraine.
Follow us on Twitter for news about Russian life and culture
The anniversary of the Prize takes place at this pivotal moment, when attitudes towards Russia around the world, as well as within the country itself, changed dramatically. To mark the decade of the Prize, and recognising the importance of the valuable insights that research and scholars offer into the Russian speaking world, the judges have exceptionally shortlisted ten books rather than the usual six.
The 2022 shortlisted titles are:
On the Edge: Life along the Russia-China Border by Frank Billie & Caroline Humphrey;
Navalny: Putin's Nemesis, Russia's Future? by Jan Matti Dollbaum, Morvan Lallouet and Ben Noble;
Weak Strongman: The limits of power in Putin's Russia by Timothy Frye;
Klimat: Russian in the Age of Climate Change by Thane Gustafson;
Not One Inch: America, Russia, and the Making of Post-Cold War Stalemate by Mary Sarotte;
In Memory of Memory by Maria Stepanova, translated by Sasha Dugdale;
Stalin's Architect: Power and Survival in Moscow by Deyan Sudjic;
The Empress and the English Doctor: How Catherine the Great defied a deadly virus by Lucy Ward;
Playing with Fire: The Story of Maria Yudina, Pianist in Stalin's Russia by Elizabeth Wilson;
Collapse: The Fall of the Soviet Union by Vladislav Zubok.
The winner of the 2022 Prize will be announced and awarded the prize of £10,000 at a special ceremony at the London Library on the 28th of September 2022. This year's judges are Evgenia Arbugaeva, photographer, recipient of the ICP Infinity and Leica Oskar Barnack awards; Archie Brown, author of The Human Factor: Gorbachev, Reagan and Thatcher and the End of the Cold War, which won the previous Prize; Dmitry Glukhovsky, author of the cult science fiction series Metro; Ekaterina Schulmann, political commentator; and Deborah Bull, a writer, broadcaster, cultural commentator.
You can learn more about the Prize on the official website of the Pushkin House.
Cover photo: Pushkin House
---
Read more:
Joanna Stingray, American friend of Tsoi and Grebenshchikov: "I left Russia thinking I would never return"
Russian music at BBC Proms 2022
×
SUBSCRIBE
Receive our digest once a week with quality Russian events and articles
SUBSCRIBE
Receive our digest once a week with quality Russian events and articles