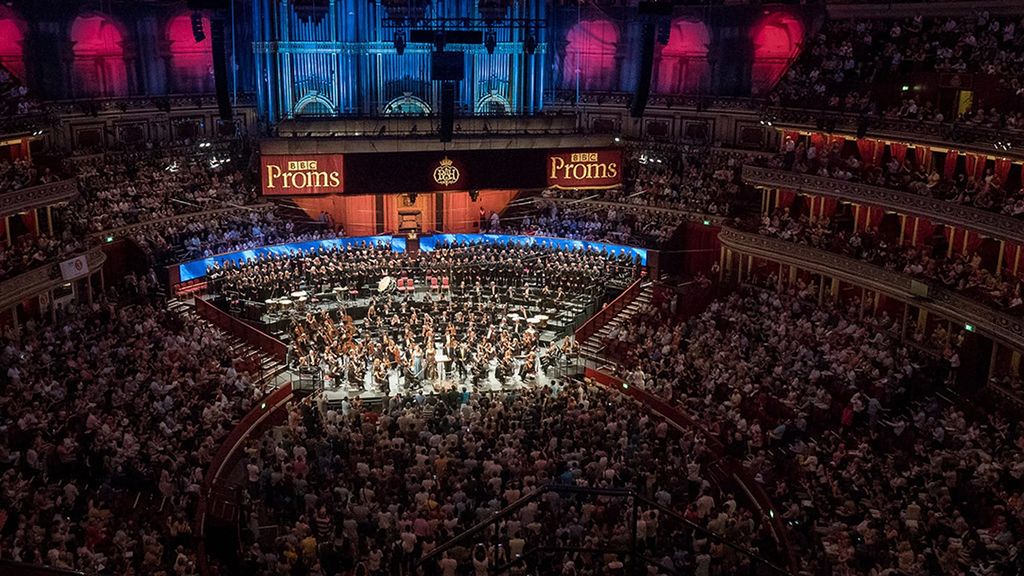 Russian music at BBC Proms 2022
From July 15 to September 10, London and other cities in the UK will host a series of BBC Proms concerts, where you can hear the best classical works performed by famous musicians. Afisha.London magazine presents a selection of events where works by Russian and Ukrainian composers will be performed by musicians from Russia and the post-Soviet space.
Rachmaninov and Tchaikovsky performed by the BBC Symphony Orchestra
At this concert, you will hear Sergei Rachmaninov's Piano Concerto No. 2 and Pyotr Tchaikovsky's Romeo and Juliet Overture. This evening will also feature works by Johann Johannsson and Hildur Guðnadóttir. The conductor will be Dalia Stashevskaya, and Alexander Gavrilyuk will perform the solo part on the piano.
---
Rimsky-Korsakov performed by the BBC National Orchestra of Wales
For composers in the 19th century, the pages of the One Thousand and One Nights were a portal to a new imaginative world: a place where fantastic stories and exotic images inspired sounds more sensuous, more colourful and more magical than anything that had been heard before. Ravel and Rimsky-Korsakov both drew inspiration from the tales of the beautiful Scheherazade.
Follow us on Twitter for news about Russian life and culture
---
Rachmaninov's Second Symphony
Performed by the City of Birmingham Symphony Orchestra, you will hear the overture to the opera Ruslan and Lyudmila by Mikhail Glinka, as well as the second symphony by Sergei Rachmaninov.
---
Alim Beisembaev Concert
Pianist from Kazakhstan Alim Beisembaev will perform a rich programme of works by Domenico Scarlatti, Franz Liszt and Frederic Chopin.
---
Tchaikovsky's Fourth Symphony
The BBC Symphony Orchestra and violinist Johan Dalene present Tchaikovsky's Fourth Symphony. This autobiographical work combines horror, triumph and the composer's struggle for life and death with the force he called Fate.
---
Elena Tsallagova and BBC Scottish Symphony Orchestra
Russian opera singer Elena Tsallagova, who has performed at major opera stages and festivals in Europe with the BBC Scottish Symphony Orchestra, will sing Johannes Brahms' German Requiem.
---
Shostakovich performed by the BBC Scottish Symphony Orchestra
They say that music and politics are incompatible, but Shostakovich's Fifth Symphony was the composer's direct response to pressure from Stalin, becoming a real example of how opposition to the state can be reflected in the music. This evening will also feature works by Anton Bruckner and Nicole Lizée.
---
Puccini's "Il tabarro"
Puccini's one-act opera Il tabarro will be performed by George Gagnidze, Natalya Romaniw, Ivan Gyngazov and other performers. This evening will also feature works by Paul Dukas and Ottorino Respighi.
---
"The Rite of Spring" by Stravinsky
The BBC Symphony Orchestra, together with pianist Tom Borrow, will perform Igor Stravinsky's The Rite of Spring, as well as works by Maurice Ravel and Iannis Xenakis.
---
Liudmyla Monastyrska and Ukrainian Freedom Orchestra
The newly formed Ukrainian Freedom Orchestra has become a true symbol of the amazing strength of resolve and determination shown by the people of Ukraine during the difficult months of the war conflict, as well as a beacon of hope for peace. The orchestra will perform the seventh symphony of the living Ukrainian composer Valentin Silvestrov, as well as works by Chopin, Beethoven and Brahms.
---
Alina Ibragimova and Cédric Tiberghien
"Both of these players have the potential to conquer the world," wrote The Times soon after violinist Alina Ibragimova and pianist Cédric Tiberghien — then both BBC Radio 3 New Generation Artists — first played together in 2007. The musicians together will perform works by Havergal Brian, Eugène Ysaÿe and Cesar Franck.
---
Shostakovich performed by Aurora Orchestra
At this concert, you will hear Dmitri Shostakovich's Violin Concerto and Beethoven's Fifth Symphony. Aurora Orchestra will be led by Nicholas Collon.
---
Shostakovich's last symphony
This evening, the musicians will present Shostakovich's fifteenth symphony and works by contemporary composers: Kalevi Aho and Kaija Saariaho.
---
Semyon Bychkov and BBC Symphony Orchestra
The BBC Symphony Orchestra, conducted by Semyon Bychkov, will perform Symphonic Dances by Sergei Rachmaninov, as well as works by Julian Anderson and Bohuslav Martinů.
---
Marin Alsop and Vienna Radio Symphony Orchestra
The concert program includes Béla Bartók's The Miraculous Mandarin, Sergei Prokofiev's Piano Concerto No. 3, Heliosis by Hannah Eisendle and Symphony No. 7 by Antonín Dvořák.
---
Tchaikovsky and Prokofiev performed by the Philharmonia Orchestra
This evening from the stage of the Royal Albert Hall you will hear a suite from the ballet Swan Lake by Tchaikovsky, as well as a concerto for violin and orchestra by Missy Mazzoli and excerpts from the ballet Romeo and Juliet by Prokofiev.
---
Carion Wind Quintet
There's always something playful about a wind quintet — musical primary colours clash, blend and rearrange themselves in all the patterns of a kaleidoscope. And there's always something out-of-the-ordinary when the Carion Wind Quintet takes to the stage. Playing from memory, and turning every performance into exuberantly choreographed physical theatre, these five inventive performers practically become the music. They will perform works by Igor Stravinsky, György Ligeti and Carl Nielsen.
---
Vasily Petrenko and Royal Philharmonic Orchestra
The Royal Philharmonic Orchestra under the direction of conductor Vasily Petrenko will play the Fifth Symphony by Sergei Prokofiev, created in wartime and embodied, according to the composer himself, "the power of the human spirit." This evening will also feature works by Aaron Copland and George Walker.
---
Beethoven's First Concerto
Behzod Abduraimov, according to The Independent, is "the most perfect pianist of his generation." At this concert, he will play Beethoven's First Concerto, Carl Nielsen's Third Symphony and Maurice Ravel's Waltz.
---
Kirill Petrenko and Berlin Philharmonic Orchestra
For the first of its two BBC Proms 2022 concerts, the Berlin Orchestra will perform just one piece: Mahler's Symphony, No. 7 which the composer has called his "song of the night". At the second concert, you will hear Shostakovich's Symphony No. 10 and Alfred Schnittke's Concerto for Viola and Orchestra.
---
Lisa Batiashvili and The Philadelphia Orchestra
The German violinist of Georgian origin Lisa Batiashvili, together with the Philadelphia Orchestra, will perform the symphonic poem Isle of the Dead by Sergei Rachmaninov, Poème by Ernest Chausson, as well as works by Camille Saint-Saëns and Florence Price.
Cover photo: Paul Hudson
---
Read more:
Fashion Show & Film: from the Silk Road to Pall Mall
Activists urge international museums to recognize Malevich as a Ukrainian
×
SUBSCRIBE
Receive our digest once a week with quality Russian events and articles
SUBSCRIBE
Receive our digest once a week with quality Russian events and articles