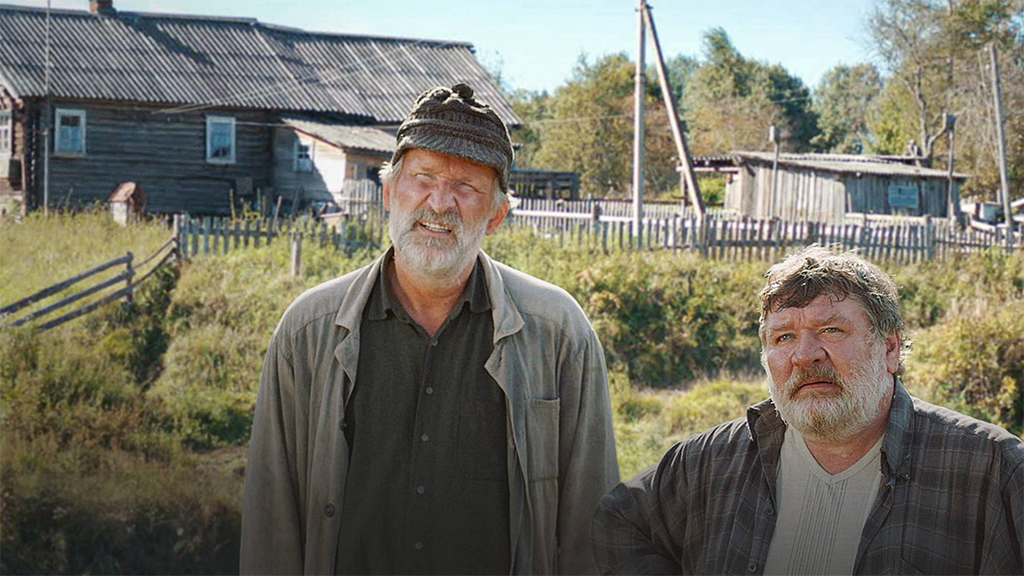 Pick of the week: Eduard Parri's "Once Upon a Time"
01 April, 2021
Urban life has largely supplanted rural life, occupying a paramount place in modern cinema. At the moment, the overwhelming majority of contemporary films, including Russian films, are set in large metropolitan areas and, in rare cases, in small regional centres. Therefore, nowadays the Russian village is perceived as something that belongs in the Soviet past and not on the big screen. However, village life, devoid of many attributes of the 21st century, is a reality for a good part of the population of Russia. The story of such forgotten village is told by Eduard Parri in his film Once Upon a Time (2017), which this week is available to watch on the British streaming platform Klassiki as part of their "Pick of the Week" section.
In this film by Eduard Parri, there are only three characters, who are the only inhabitants of a tiny dying village called Chudinovo, which is abandoned by all and is seemingly cut off from the rest of the world. Of course, every now and then other characters appear on the screen: for example, Kolya, the driver of the auto shop, who periodically visits the village, or the younger brother of one of the main characters, Vitya, who lives in the city. In the centre of the plot are a widower Lyokha (Roman Madyanov) and a bachelor Grisha (Fyodor Dobronravov), who have been friends for their whole lives. They are joined by Tatyana (Irina Rozanova), whose husband Sanya dies at the very beginning of the film, leaving the village with only three inhabitants. It is after Sanya's death when the plot begins to develop: Grisha decides that he should marry the widowed Tatyana, but Lyokha, when he learns about his friend's plans, is very dissatisfied and begins getting in Grisha's way. Lyokha's attempts to interfere with Grisha, like many other episodes of the film, are undoubtedly capable of making one laugh, but Once Upon a Time cannot really be called a standard comedy — there is a grain of sadness in this film, while it also is capable of inspiring philosophical thoughts.
The village itself, where the story takes place, can look like something fictional for a city dweller — how can such a thing exist in the modern world? However, the reality is that there are many similar places in Russia, which seem to be hidden behind some invisible line of oblivion — they are there, but no one knows about their existence or simply does not want to acknowledge it. There is no connection in Chudinovo — in order to catch cellular signal, one must walk to the nearest bus stop (which is actually not that close) and climb onto the roof. Of modern technology the characters only have a TV, though it is 20 years old. At the same time, the film does not only focus on this 'island' with three inhabitants, cut off from civilization: Grisha visits the city where his brother lives, who tells him about such advantages of city life as, for example, food delivery. Only Grisha is not at all eager to leave the village, which is full of melancholy and of some kind of silent beauty at the same time.
Once Upon a Time is also worth watching because of the wonderful actors. Fyodor Dobronravov is familiar to almost every Russian viewer: the actor, who started his career at two very famous Moscow theatres, has become popular thanks to some famous in Russia comedies. Dobronravov is accompanied by Irina Rozanova and Roman Madyanov — she starred in a hit detective series, while he is just as confident in comedies as in dramas (roles in such critically acclaimed films 12 and Leviathan brought him prestigious awards). The soundtrack to Once Upon a Time was written by a popular Russian singer-songwriter Leonid Agutin — his song I Can't See You perfectly complements the film (watch the video above to listen to the song). By the way, Agutin's work is also worth paying attention to, because this year, with his new album La Vida Cosmopolita, the musician got into the long list of the Grammy Awards in as many as five nominations, including Best Album. Watch in perfect quality with English subtitles on Klassiki.
British streaming platform Klassiki has other films about Russian province, so do not miss out on the opportunity to subscribe before April 4th for just £2.99 a month (then the price goes up to £5.99 a month)! A subscription will allow you to watch Soviet classics and modern films from Russia, the Caucasus and Central Asia in HD quality, with professional English subtitles, without ads and with special curated content. Subscribe to Klassiki.
Cover photo: a still from "Once Upon a Time"
---
Read more:
National Trust is trying to save a tapestry depicting Peter the Great from moths
Rudolf Nureyev: an emigrant, who became a ballet legend
How Britain discovered Gorbachev, and Gorbachev discovered Britain
×
SUBSCRIBE
Receive our digest once a week with quality Russian events and articles
SUBSCRIBE
Receive our digest once a week with quality Russian events and articles