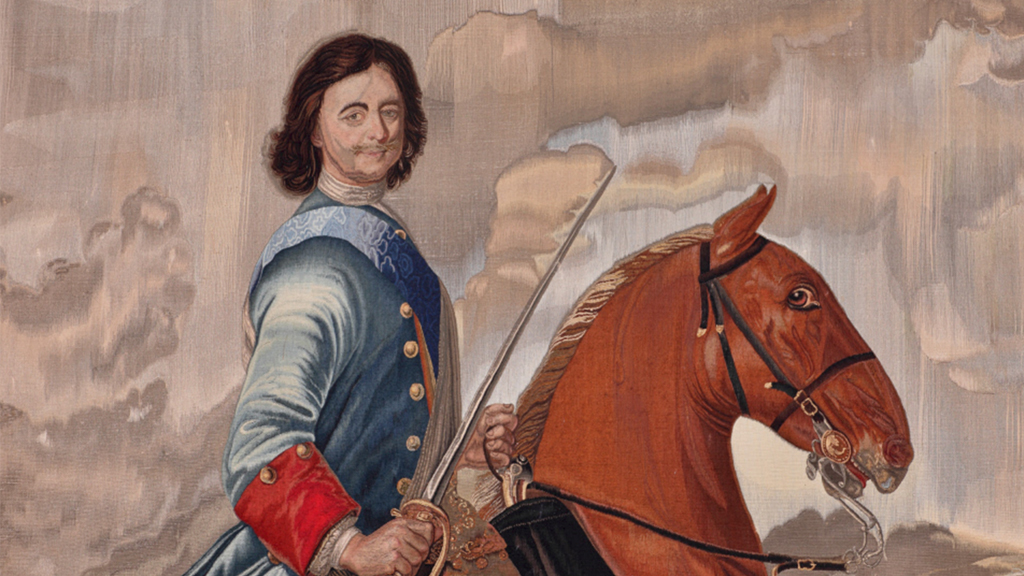 National Trust is trying to save a tapestry depicting Peter the Great from moths
During the pandemic, nature and civilization unexpectedly came into contact in a new way — various wild animals appeared in empty cities, surprising the locals. However, not all were lucky to encounter such cute forest dwellers as deer and mountain goats: for example, some museums were attacked by nasty insects. While old mansions, palaces and estates stood empty without visitors, nature took its toll and quickly occupied the place that was suddenly vacated by humans. Thus, a valuable tapestry depicting Peter the Great, which is exhibited at Blickling Hall, is at risk — it may become seriously damaged by clothes moths that appeared there during the pandemic. National Trust is planning to save the tapestry in a very curious way — with the help of wasps!
This tapestry that depicts Peter the Great defeating the Swedish army during the Battle of Poltava (1709) has a rather interesting story. It was created at a manufactory organised by Peter himself upon his return from France — the czar arrived in Russia together with French craftsmen, who had previously worked at two of the most famous tapestry manufactories, Gobelins and Beauvais. They trained local Russian weavers in the art of making high quality tapestries before returning to their homeland. Then the manufactory was revived by Catherine the Great, who also invited a craftsman from Gobelins to help the new director. The Blickling Hall tapestry depicting Peter the Great was made at this manufactory in 1764, and in 1765 Catherine the Great presented it to John Hobart, 2nd Earl of Buckinghamshire, in gratitude for his service as Ambassador of the United Kingdom to Russia. The earl himself was not particularly happy with the three years he spent in Russia, which is evident from his rather negative personal notes, however, he allocated an entire room at his family estate, Blickling Hall, for the empress' gift. This chamber is now known as The Peter the Great Room.
Follow us on Twitter for more news about Russian culture and history
Blickling Hall itself is now owned by National Trust — it is located in Norfolk and was built in the early 17th century on the site where the Boleyn family mansion once stood. Rumour has it that the famous Anne Boleyn was born at this very mansion, so there is a legend that the ghost of Anne — headless Grey Lady — now haunts the building. However, while no one has been able to prove the ghost's presence within these walls, the mansion's new inhabitants are definitely not fictitious. Problem is that a population of clothes moths settled in Blickling Hall during lockdown, which is now threatening precious exhibits, including the valuable tapestry depicting the Russian Czar. In general, in 2020, the number of insects at National Trust's properties increased by 11%, but Blickling Hall is especially unlucky. National Trust plans to start getting rid of these unwanted guests, but instead of using chemicals it will introduce thousands of microscopic wasps.
Hilary Jarvis, assistant national conservator at National Trust, points out that the problem with moths is not critical to such an extent that the exhibits are literally turning to dust, but insists on the need to prevent such an outcome: the value of the tapestry and other objects stored in Blickling Hall is too high to allow even minor damage. As a method of dealing with moths, National Trust chose microscopic wasps, which, as strange as it may sound, are very effective. The size of these insects called Trichogramma evanescens is only 0.5 mm, but despite the fact that they are practically invisible to the naked eye, these tiny wasps can seriously harm the moth population. Moreover, they are completely safe for humans, live for only two weeks and turn into dust after death. Thousands of such wasps supplied by a company called Historyonics are going to be placed in Blickling Hall in the near future.
"They're not to be confused with the wasps that sting when you're having your picnic. It's a different end of the spectrum. It's like comparing a domestic Chihuahua with a wolf", — says David Loughlin, the manager of Historyonics.
These wasps lay their own eggs inside those of moths, thereby not allowing the insects to breed, but National Trust does not intend to stop there. The organisation wants to combine two different methods of pest control — in addition to wasps, they will spray special pheromones, which confuse male moths thus affecting reproduction. In fact, National Trust has used both microscopic wasps and pheromones to fight moths before, but these two technologies have never been applied simultaneously. Thanks to these methods, the invaluable tapestry and other exhibits of Blickling Hall are likely to be protected from these voracious insects.
Cover photo: Robert Thrift/National Trust
Follow us on Twitter for more news about Russian culture and history
---
Read more:
Rudolf Nureyev: an emigrant, who became a ballet legend
How Britain discovered Gorbachev, and Gorbachev discovered Britain
Felix Yusupov and Princess Irina of Russia: love, riches and emigration
×
SUBSCRIBE
Receive our digest once a week with quality Russian events and articles
SUBSCRIBE
Receive our digest once a week with quality Russian events and articles