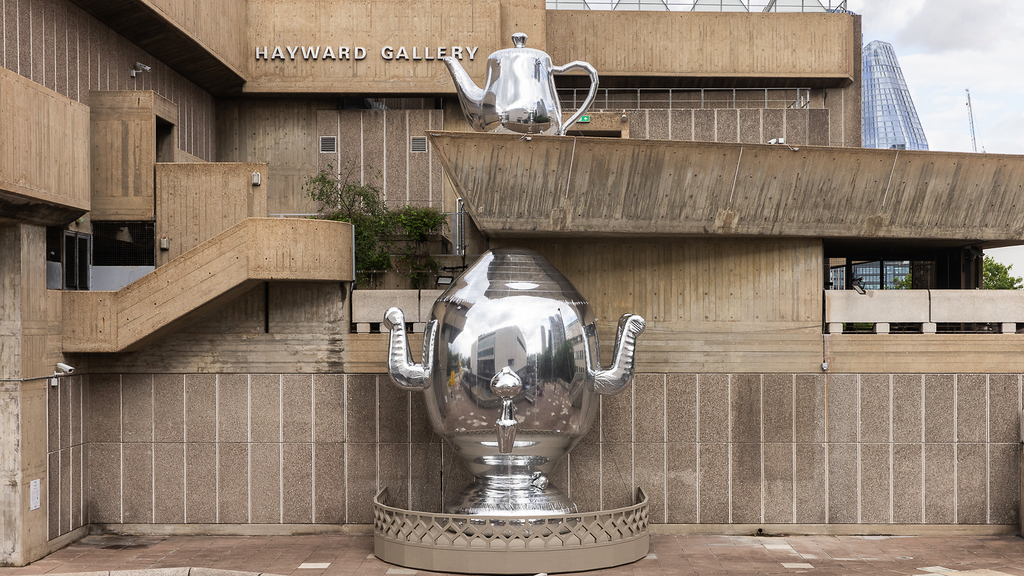 Giant teapot "Samovar" in center London
More and more art installations appear in London. For this time the Hayward Gallery presents a massive shiny teapot Samovar by the art collective Slavs and Tatars from Berlin.
The work takes the form of a gigantic tea brewer also known as a Samovar and reflects on the multicultural and colonial histories of tea. A new sculpture from the world-famous art collective Slavs and Tatars has been unveiled against the iconic backdrop of the Hayward Gallery. Samovar invites visitors to question the role of the popular drink tea in the UK and its ties – historical, traditional and cultural – to Central Asia. Taking the form of an oversized inflatable water boiler, teapot and serving tray, the artwork is titled after the eponymous tea brewer commonly found across Central Asia. A Russian invention of the mid-18th century, today Samovars are used across Eastern Europe, the Middle East and some parts of Asia, in both domestic and communal settings.
Follow us on Twitter for news about Russian life and culture
By blending pop aesthetics, esoteric traditions and oral rituals with scholarly analysis, Slavs and Tatars creates artworks that address complex and overlooked cultural histories spanning Europe and Asia. Since 2006, the artists have produced installations, sculptures, lectures and printed matter that question understanding of language, ritual and identity. Slavs and Tatars say of their art installation: "Like the British, we're serious about tea – as well as self-deprecating humour – and can't imagine a better way to tease tea-baggers than a giant Samovar right outside the Hayward Gallery at the Southbank Centre, with its historical mission to present an international face to the public."
From September 3 to November 14, you can find Samovar, presented by the Bagri Foundation, at the Hayward Gallery Terrace.
Cover photo: Hayward Gallery
---
Read more:
Modernist legend Henry Moore and his muse Irina Radetsky
Emmeline Pankhurst in St. Petersburg: the suffragette movement in Britain and Russia
"The Tsarina's Daughter": a new book by Ellen Alpsten about Elizabeth of Russia
×
SUBSCRIBE
Receive our digest once a week with quality Russian events and articles
SUBSCRIBE
Receive our digest once a week with quality Russian events and articles