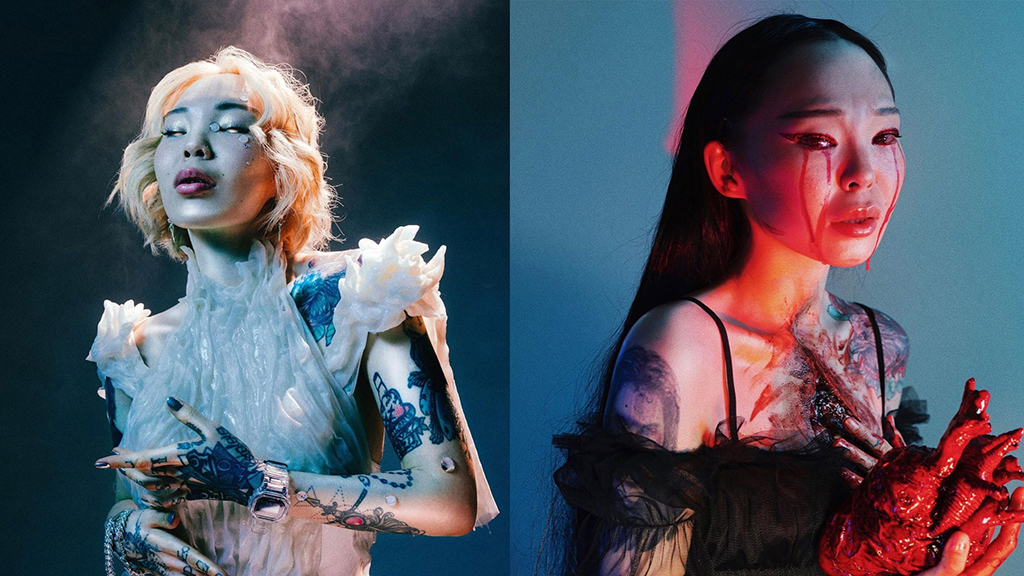 Digital artists who assume imagined identities are now shaping our reality
With digital art becoming more and more influential in today's contemporary art scene, it seems that artists have decisively set out to create a separate world of their own. Naturally, imagination has always played a significant role in the arts. The only difference is that now, thanks to modern technology and new ways of communication, this artificial digital world is demanding its own space in our everyday real lives. Afisha.London explores the modern phenomenon of assuming imagined digital identities while studying the works of the three established digital artists who have very different approaches to this trend.
Aryuna Tardis is an established digital artist with the brands like L'Oreal, Burberry and Adidas on the list of her clients and 165.000 Instagram followers to back up her assumed digital identity. She is like a guest from the future; she is different, she is iconic. Aryuna sees the present moment as an opportunity to be anyone she wants to be; to try on hundreds of faces and create a new reality.
Follow us on Twitter for news about Russian life and culture
To transform herself, she employs make-up, photography, animation and digital collage, and in this way, she forms a new visual culture in the contemporary art scene. Aryuna is really inspired by the classic alien look and she experiments with her appearance to create an astonishing otherworldly persona that interacts with her large audience from the online social platforms.
Aryuna's radical artistic journey originates from her experience of isolation and suffering. When Aryuna was a child she found herself not fitting in, her appearance differed from everyone around her because her parents had relocated from the Asian to the European part of Russia. Instead of hiding or desperately trying to conform to the standards accepted by her new community, she moved boldly towards emphasising her uniqueness more… way more. Every new piercing, daring make-up or provoking hair colour was her way of expressing her emotions of fear, insecurity and pain of separation. These were the ways to heal herself and become confident and free of the boundaries of society.
Mark Melnikov uses sculpture, concept digital art and mixed media to create new worlds from scratch. His fascinating and unique visual style composes worlds that his audience is attracted to, and is tempted to believe in. These are the worlds of magic, grand natural landscapes covered with snow and futuristic industrial empires set out in a desert. Mark employs a multi-disciplinary approach to give a texture and a sense of reality to the realms of his fantasy. He creates costumes, armour, masks and crowns to give weight and presence to his characters.
In contrast to Aryuna, Mark does not interact with his audience from his own persona. Instead, he assumes multiple identities of his fantasy characters to create a powerful visual storytelling experience. As if he was an author behind the pages of a fantasy book, to take us into worlds where anything is possible, and we could also become someone else, live out a fantasy character of our dreams.
Victoria Dmitrenko uses yet another way to modify and re-create herself, assuming an identity of a character from the past. She tells a story of being born in the mid-40s in New York and swirling her way through the emerging pop-art scene. Silver Factory is her go-to party place, Andie, Lou, Nico and Edie are her friends. This enchanting story presents her as a fictional character who does not age and is now living in London remaining 26 years old in 2022.
With this kind of background, it is only natural that her digital artwork and her moving images question the customs of contemporary society in a striking pop-art style. She explores topics like losing romance in relationships and replacing it with digital apps, like Tinder, for instance. She reduces the narrative to its essence: a few colours, a few snappy lines of a dialogue between the characters and clear-cut collage-style shapes. Just like her old friends Andy Warhol and Roy Lichtenstein, she takes a mirror and offers the modern society to see itself as it is, stripped to its essentials and seen without a filter.
Cover photo: Various expressios, Aryuna Tardis
---
Read more:
Dancer Valerie Kosnevich: "The main thing for me is to remain a human"
United Ukrainian Ballet will perform "Giselle" in London
Curator Evgenia Myasnikova and the "Made in Sakhalin" exhibition
Array ( [related_params] => Array ( [query_params] => Array ( [post_type] => post [posts_per_page] => 5 [post__not_in] => Array ( [0] => 88718 ) [tax_query] => Array ( [0] => Array ( [taxonomy] => category [field] => id [terms] => Array ( [0] => 1179 ) ) ) ) [title] => Related Articles ) )
×
SUBSCRIBE
Receive our digest once a week with quality Russian events and articles
SUBSCRIBE
Receive our digest once a week with quality Russian events and articles