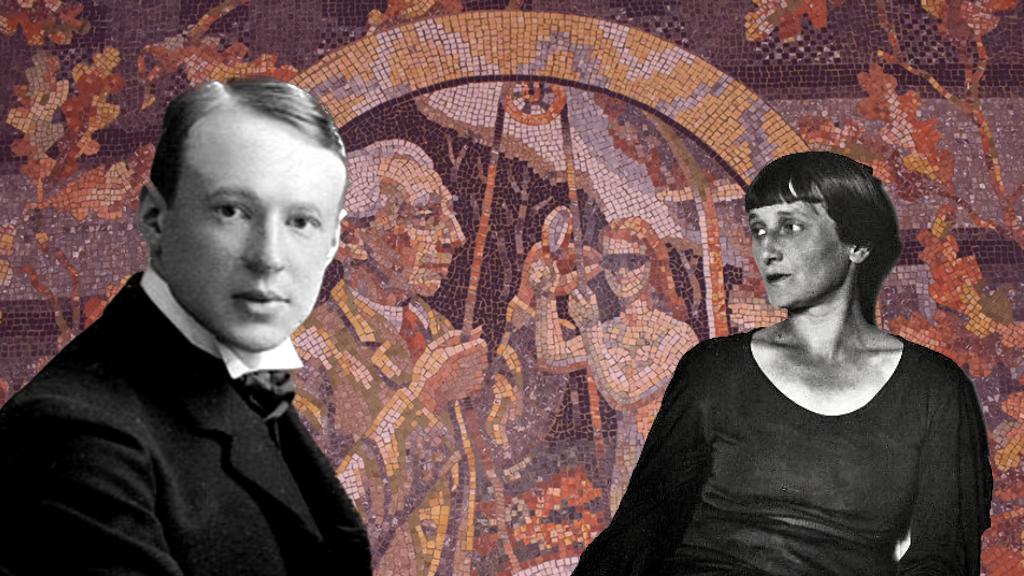 Boris Anrep in London: A Don Juan and the Love of Anna Akhmatova
Boris Anrep was a mosaic artist, a ladies' man and a star of London's bohemian society of the first half of the 20th century. In the United Kingdom, he is known for his fantastic mosaics in the Bank of England, Tate Britain and the National Gallery in London. Russian speakers, however, will surely remember Anrep from Anna Akhmatova's poetry. The poetess was in love with him and dedicated 36 poems to the artist. Many other women also could not resist the charm of the handsome Anrep: Russian aristocrat Yunia Khitrovo, American mosaicist Jeanne Reynal and Virginia Woolf's friend, British artist Ottoline Morrell. Afisha.London magazine explores the artist's romantic adventures and finds out how he won Anna Akhmatova's heart.
Don Juan's early years
The future mosaic artist was born on 27 September 1883 in Saint Petersburg. According to a family legend, the Anrep family originates from medieval Estonian pirates, from whom Boris inherited his striking appearance, charisma and fearless attitude. In the 18th century, the Anreps swore allegiance to Peter the Great. Since then, all family members continued to serve Imperial Russia, choosing the navy or sciences as their careers. The name of Boris's father, Vassily von Anrep, is often mentioned in Russian encyclopedias – he was a medical scientist and statesman. His son followed in the footsteps of his ancestors and chose to enrol at the Imperial School of Law and Saint Petersburg State University. But Boris quickly realised that he was only ever really interested in art. And women.
18-year-old Boris Anrep (1901)
Young Boris Anrep
Boris was handsome, athletic and slender – he looked like a blond angel with captivating green eyes. The young man was able to test his charms in the West at the age of 16 when his strict father sent the future artist on a study trip to London for a whole year. Back then, Anrep realised that the stiffness of British ladies was a myth. After 11 years, he would return to the British capital and have affairs with members of the Bloomsbury Group – this was a circle of free-thinking British intellectuals, writers and artists.
Read more: Rudolf Nureyev: An Emigrant, Who Became a Ballet Legend
While studying in Russia, young Anrep was surrounded by numerous lovers. At the age of 19, he almost married one of them – Mariinsky Theatre's ballerina Tselina Spryshinskaya. At that time, it was fashionable to have affairs with ballerinas. Still, Tselina was raised in a strict Catholic family and refused to enter a relationship before marriage. Boris was saved from a hasty marriage by the decision to complete his studies and become a professor. Still, his attention immediately switched to other beautiful ladies. His son's adventures made strict and scrupulous Vassily von Anrep clutch at his head. On the eve of Boris' departure to study at the Académie Julian in Paris, he set a condition – the young man must marry one of his lovers and stop dishonouring the family. Anrep obeyed his father but did as he saw fit anyway. In 1908, he married the daughter of a Privy Councillor and Russian aristocrat, Yunia Khitrovo, in Nice. However, a couple of years later, he would bring another woman home – Helen.
---
A love triangle in Paris
The newlyweds settled in Paris, and from 1910, Boris began to travel to the UK more and more often – on business to London and to study at the Edinburgh College of Art. At a dinner in London, Anrep met his friend and artist Henry Lamb, who came with his mistress, Helen Maitland. At first, the girl made a depressing impression on Boris: he even called her a tramp. Helen was born in Scotland, but after her father left the family, she and her mother were forced to emigrate to California and later survive in cheap housing in Switzerland, Italy and France.
Yunia Khitrovo
Helen Maitland
However, Helen's mother was a painter, which was a huge advantage – their nomadic lifestyle contributed to the fact that the girl spent a lot of time in art galleries in different cities, cultivating her taste. Perhaps Anrep saw a kindred spirit in her. As he later admitted, Helen did not get out of his head for a year after their first meeting. In 1911, Boris and his wife moved to a Parisian studio on a picturesque boulevard, where many other artists lived and worked, which is what Anrep would do there, too. His old friend, Henry Lamb, once visited Paris in the company of his girlfriends, among whom was Helen. This time, the girl struck Anrep with her beauty, charm, and ability to listen. So he finally fell in love.
Read more: Virginia Woolf and Her Fascination with Russian Literature
Boris's affair with Helen led to the girl's pregnancy. The imperious Mrs Maitland was utterly distraught and took her daughter to a convent in London. Anrep, deeply in love with Helen, rushed to the monastery, got her out and invited her to live in his Parisian studio. Miraculously, the two ladies of his heart got along rather well until, in 1914, Yunia decided to divorce the artist. In addition, Anrep was romantically interested in another woman in London, where his career was gaining momentum – philanthropist and artist Ottoline Morrell. She was Virginia Woolf's friend and one of the central figures of the Bloomsbury Group, in which Boris was also actively involved. It was Ottoline who warmly recommended Anrep as an aspiring mosaicist to all her London acquaintances. She described him as a man "intelligent, good-natured, sensual and at the same time full of youthful vitality and Russian fun".
Ottoline Morrell
Boris Anrep with his son Igor
Under the patronage of the members of the Bloomsbury Group, namely the post-impressionist artist John Augustus, in October 1913, Anrep held his first solo exhibition at Chelsea's famous Chenil Gallery on King's Road in London. Today, nothing remains of the gallery but former glory: in 1927, the owner declared bankruptcy and closed it. At the exhibition, the art world recognised Anrep's talent, so he was set to become a prominent mosaicist. After divorcing Yunia, Boris married Helen, and together they moved to an apartment on Pond Street in Hampstead, London. Helen bore him two children: Igor and Anastasia.
---
Meeting Anna Akhmatova in Saint Petersburg
With the outbreak of World War I in 1914, Anrep returned to Russia. As a Russian officer brought up on the concepts of honour and dignity, he could not even think about hiding from the war abroad. He spent two years in the army, fought in Galicia and Transcarpathia, and received five medals. However, just before leaving for the army, Boris met a new muse who would inspire him for the next 48 years – Anna Akhmatova. In our article dedicated to the poetess, we discussed her relationship with Boris Anrep in more detail.
Read more: Anna Akhmatova in the UK: A Poetess, Muse and Femme Fatale
They met for the first time in Saint Petersburg, thanks to their mutual friend. Akhmatova would later recall: "Poetic improvisation, evening, then two more days, on the third he left. Went with him to the train station". These short but unforgettable meetings occurred from 1914 to 1916 – then Anrep came to Saint Petersburg on military leave. Both Boris and Anna were completely immersed in their love and passion for each other, translating their strong feelings into poetry: Anrep was also a poet, so he dedicated various poems to Anna, and she, to him. Moreover, the two lovers exchanged presents. Boris gave Akhmatova a wooden altar cross, which she kept until her death, while she gave him a black ring with a tiny diamond. This ring was a gift from Anna's grandmother and was designed to protect her from misfortune. Unfortunately, Anrep would lose it in London during a World War II bombing.
Maria Volkova
Boris Anrep and Maria Volkova at work at the National Gallery
Akhmatova was romantically interested in Anrep, and his decision to leave Russia forever on the eve of Nicholas II's abdication in 1917 upset the poetess greatly. This is illustrated by a change in the tone of her poems and dedications. Moreover, Anrep was in a hurry preparing documents not only for himself but also for a certain Maria Volkova. The artist's acquaintances asked him to help her leave pre-revolutionary Russia. On their way to Europe, Boris and Maria fell in love. Once the couple arrived in London, the girl was hired as a typist. And again, Anrep pulled the same trick – he invited his new lover to his house on Pond Street, which he shared with Helen. Eventually, he divorced Helen Maitland in 1926, and Maria became his last great love.
---
The last affairs
Anrep continued having various little affairs until old age. One of his last passions was Jeanne Reynal – a cheerful daughter of an American aristocrat from the South. She became his assistant mosaicist in Paris, although Maria's jealousy forced Jeanne to work in her own studio overlooking the Seine instead of Boris's. After studying with Anrep, Reynal gained incredible popularity as a pioneer of the revival of ancient mosaic techniques: her works are in the collections of the best museums in the United States. However, Boris lost interest in Jeanne after falling in love with the American millionaire Maud Russell, whom he "stole" from none other than Ian Fleming, the author of the James Bond novels. Maud was Boris' last love affair on the side. And in 1965, after many years of separation, he met Anna Akhmatova again.
Jeanne Reynal
Boris Anrep and Maud Russell
Their last meeting took place in Paris, where the poetess stopped for a few days after being awarded an honorary doctorate at Oxford University. Boris later wrote in his memoirs that in his memory, Anna remained "charming, fresh, slender and young," He did not expect to see in front of him a woman that looked so much like Catherine the Great. They met in awkward silence; the two lovers said everything to each other without words. Now, researchers who study Anrep's work find Akhmatova's influence in many of his mosaics. The artist included the image of the poetess, who survived the blockade of Leningrad, in his mosaic panel Compassion, which can be found on the floor at the entrance to the National Gallery in London. Moreover, Akhmatova's trademark hairstyle and gaze can now and then be recognised in Anrep's other mosaics scattered around the United Kingdom and Ireland. Among them is a mosaic in Mullingar's Cathedral of Christ the King in Ireland depicting St. Anne.
Until the end of his life, the artist remained in good spirits and had a healthy body – he died at the age of 86 on 7 June 1969 in London, outliving Akhmatova by three years. The incredible story of Boris's triumphs and love adventures was immortalised in a book by his daughter-in-law and writer Annabel Farjeon, the wife of Igor Anrep. It was never published in English; however, in 2003, the biography of the mosaicist entitled The Adventures of a Russian Artist was published in Russia.
Irina Latsio
Cover Photo: 18-year-old Boris Anrep (1901)
---
Read more:
Russian Emigration a Hundred Years Ago and Now: What Unites the Two Generations?
Dostoevsky in London and His Influence on the British Classics
Felix Yusupov and Princess Irina of Russia: Love, Riches and Emigration
×
SUBSCRIBE
Receive our digest once a week with quality Russian events and articles
SUBSCRIBE
Receive our digest once a week with quality Russian events and articles