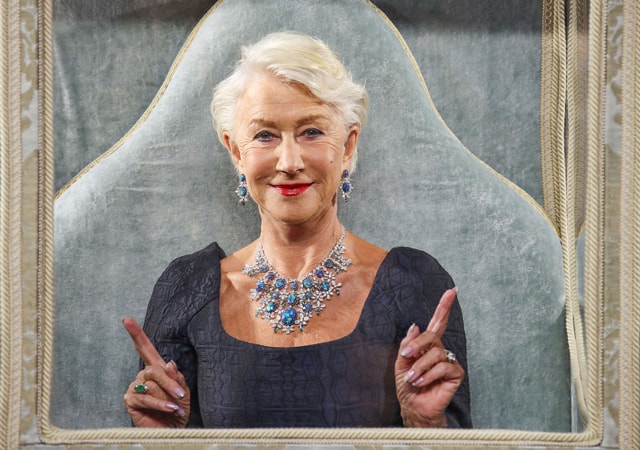 British actress Helen Mirren and her Russian history
30 July, 2020
Helen Mirren, one of the greatest actresses Britain has ever known, just celebrated her 75th birthday. Mirren's contribution to dramatic art not only of the UK but of the entire world is truly grand: throughout her career she has received multiple awards as well as was appointed a Dame (DBE) for services to drama by Elizabeth II in 2003. In honour of Mirren's birthday, Afisha.London talks about the actress' connection to Russia and remembers the most interesting moments of her career.
Russian aristocrats in London
In fact, Mirren is not the surname Dame Helen was born with – her actual birthname is Elena Lydia Vasilievna Mironova. She was born in Chiswick on the 26th of June, 1945 to a former Russian aristocrat Vasily Petrovich Mironov and a working-class Englishwoman Kathleen Rogers. Helen's father Vasily Petrovich lived in the UK all his life: he arrived in London with Helen's grandfather Pyotr Vasilievich when he was only 2 years old.
The Mironov family history is closely tied to the Revolution: Helen's grandfather went on a business trip to London only two years before the events of 1917, which were the reason why he and his son never returned home. Pyotr Vasilievich was an aristocrat, he had a family mansion called "Ekaterinovo" in Smolensk Oblast, Russia and was related to Mikhail Fedotovich Kamensky, a Russian general killed in Napoleonic wars. Helen's grandfather also was a devout monarchist, so returning to Bolshevik Russia was not only just against his beliefs but also a death sentence. As a result, he and his son settled in the British capital.
---
The Revolution and assimilation
Pyotr Vasilievich was a military engineer, he arrived in London on behalf of Nicholas II in order to obtain weaponry for the Russian army and lost his job in 1916 due to political turmoil in Russia. However, he decided to stay in Great Britain instead of returning to his homeland, even if it meant barely making it – back then everything was better than coming face to face with the Bolsheviks. This is how Helen's aristocrat grandfather became a cabby. The Mironov family led a modest life: their aristocratic past was long gone, buried with their estate, which was demolished soon after the Revolution. Their relatives that remained in Russia were forced to leave the family home and move into dingy Moscow flats. The Revolution took everything from this family.
Pyotr Vasilievich missed Russia very much and stayed in touch with his family, but in 1932 the letters stopped coming. This was when the Mironov family lost all connection to Russia; however, Pyotr Vasilievich never gave up hope that one day he might be able to return home. Unlike his father, Vasily Petrovich didn't miss Russia at all, which made perfect sense since he arrived in London as a little boy and knew his distant homeland only by the tales of his father. Helen's father dreamed of becoming a real Brit and of fully assimilating into the British society. Such thoughts upset Pyotr Vasilievich, so Vasily Petrovich changed his name only after his father's death in 1957. This is how Vasily Petrovich Mironov became Basil Mirren and his daughter Elena became Helen Mirren.
Of course, in all this talk of Helen Mirren's ancestry it would be rude to omit any mention of her mother – Kathleen Rogers. Even though she didn't have any aristocratic roots, her family still had a connection to the British Monarchy. Kathleen's grandfather was a butcher to Queen Victoria herself, so Helen's definitely got an interesting family.
---
Russian heritage
As years went by, Helen never forgot her grandfather's tales of their family estate "Ekaterinovo" and of grandmother Lydia's roses, which Pyotr Vasilievich often talked about with such warmth. Helen's grandfather used to hand draw maps of the estate and to tell her about how things were, he also showed her letters from Russia, that have been kept in the very same wooden chest for all these years. These letters and Pyotr Vasilievich's unpublished biography served as a basis for a play on BBC Radio, in which, of course, Helen played a central role.
Many years after her grandfather's death Helen decided to learn more about her Russian roots and tried to find the "Ekaterinovo" mansion. It was situated in a city called Gzhatsk, which was renamed into Gagarin during the Soviet era, which made finding it all the more difficult. However, thanks to "Mail on Sunday" journalists Helen did not only manage to find her ancestral home but also to discover her long-lost relatives. In 2007 Helen and her sister travelled to Russia to visit their homeland. The actress went to her great-grandmother Lydia's grave and planted gran's favourite red roses in a place, where "Ekaterinovo" used to stand.
Early years 
Mirren began acting when she was very young: already in primary school she got a lead role in a school production of "Hansel and Gretel". Later she went to Middlesex University's school of speech and drama, which back then was situated in "Ivy House" – a building, that used to be home of a great Russian ballerina Anna Pavlova. It seems that Russian heritage didn't want to let go of Helen "Elena" Mirren. Her acting breakthrough happened after she left university: at 20 Helen landed the role of Cleopatra in "Antony and Cleopatra", a play staged by the National Youth Theatre of Great Britain at the Old Vic. This role helped Helen sign her first contract with an acting agent.
Later she was invited to join the Royal Shakespeare Company, which led to many great roles. Her stage credits included many explicit parts: for example, Castiza in "The Revenger's Tragedy", Cressida in "Troilus and Cressida" and lady Macbeth in "Macbeth". For this the actress got a new nickname – "Sex Queen of Stratford". Helen's time with the RSC was so remarkable that a documentary about this period in her career called "Doing Her Own Thing" was made.
---
West End and the Triple Crown
After working with the RSC, Helen directed her gaze at West End. One of her first roles there was Nina in Chekhov's "The Seagull". Mirren's acting was always met with critical acclaim – she filled the stage with her presence completely and made all eyes fixate on her figure. She made her heroines the most important women in the world for as long as she remained on stage. Then Dame Helen made her way to Broadway, where in 1994 she played Natalya Petrovna in Turgenev's "A Month in the Country".
In 2013 Mirren portrayed Elizabeth II in a play by Peter Morgan (writer of the "Crown") called "The Audience", which landed her a Laurence Olivier Award in the best actress category. For this role she also received a Tony Award, which made her one of the very few actresses in history to achieve the Triple Crown of Acting – an American term, which means that one had won all of the major acting awards: Oscar, Tony and Emmy. Moreover, Helen is the only actress to ever achieve both the American triple crown and the British one, which consists of BAFTA Film Award, BAFTA Television Award and Laurence Olivier Award.
From Caligula to Fast and Furious
Mirren also is a successful and versatile film actress. She is particularly famous for portraying three different English queens: Elizabeth I, Queen Charlotte and Elizabeth II. Moreover, Helen is the only actress to ever play both Elizabeths – I and II. Throughout her career Dame Helen played a queen 6 times, and in 2019 she portrayed Russia's Catherine the Great in an HBO miniseries.
However, the brightest and most scandalous of her works were roles in Tinto Brass' "Caligula" (which was rated R and considered to be "concealed pornography") and in "The Cook, The Thief, His Wife & Her Lover", a film by an eccentric British director Peter Greenaway. Helen never regretted these roles and always said that her life belongs to the stage and the camera. Still, in 2015 the actress said that she will not be participating in erotic scenes anymore, neither on stage nor on camera.
Now one can see Dame Helen in movies that are quite uncharacteristic for her career: for instance, in the "Fast and Furious" franchise. Helen starred in "The Fate of the Furious" and is set to appear in 2021's "F9".
×
SUBSCRIBE
Receive our digest once a week with quality Russian events and articles
SUBSCRIBE
Receive our digest once a week with quality Russian events and articles