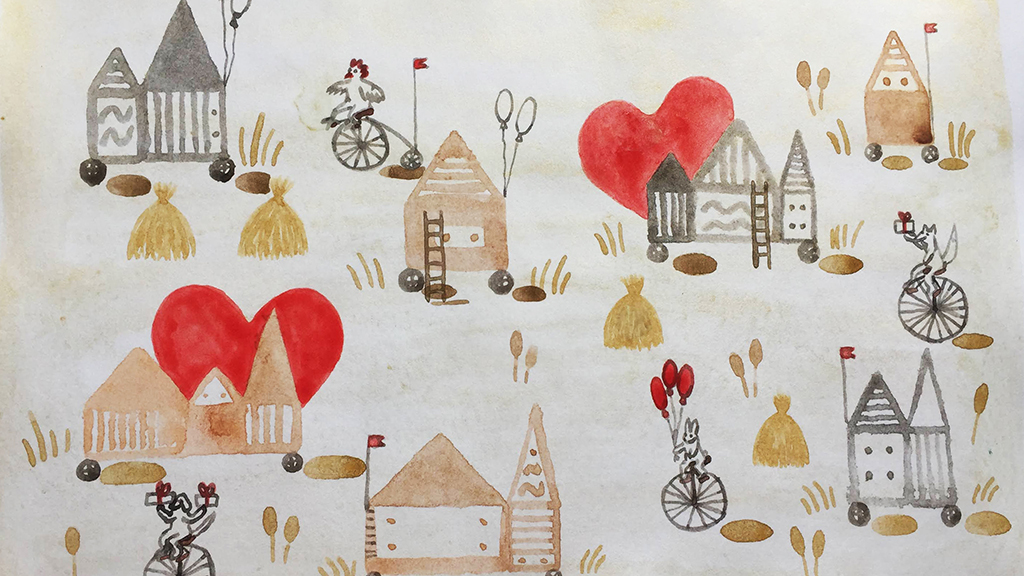 Contemporary inspirational artists using classical techniques
What is contemporary painting? Artists seek new experiments with color, form and texture to create interesting and exciting paintings. While many seek the new and unexplored, there are those who prefer to use good old, years-tested classic methods and techniques. Their work is often a source of inspiration and tells us that our world is wonderfully beautiful and multifaceted. Maria Bregman, a journalist, writer and contemporary art researcher, shares some of the recent work of these talented people.
Elena Reznikova — is an artist who specializes in creating lively and emotional paintings. Her works are stunning: they remind us of the importance of human beings in the digital world and the need to communicate with each other.
Media storm depicts streams of information pouring in from dozens of media are overwhelming, one freezes, trying to grasp everything at once, and gets trapped in such a state for a long time. Media channels, which seemingly provide a connection to the world around us, in fact, provide only an illusion; the frozen person sits in a void, cut off from reality. In a world where the coronavirus has canceled events and thrown the art world into turmoil, it's encouraging to know that there are still contemporary artists like Elena, creating works within the walls of their homes that inspire us to connect with each other and believe in life.
Without senses tells that just as Covid turned off our sense of smell and taste buds, we have — only by ourselves, voluntarily — turned off our sense of touch. Now we live without hugs, handshakes, avoiding contact with objects in public places.
Elena strives to convey the emotions that arise when contemplating them. Her work is a reminder that we should all take the time to appreciate the world around us.
Sonya Nechay is an extraordinary artist who creates amazing paintings that are both stylish and functional. They can be placed in an art gallery, in a public space, and in private collections. Her work is often referred to as the "cut diamond of art" because the paintings seem to draw the eye, being a decoration of the place in which they are displayed.
In her work, Sonya explores the peculiarities of the human traumatic experience, as well as its relationship to loneliness and acute anxiety. Her artistic method is based on the use of contrast and a thin, uninterrupted line, a marker of shakiness and uncertainty. The boundedness of life's turning points, the way human consciousness splits when confronted with a traumatic event, is expressed through the dysplasticity of human forms. The destruction of the habitual structure of the human body generates perceptual anxiety, but reveals a variety of possible readings, depending on the viewer's life experience.
Sonya's work is a reminder that art need not be static. it can be something we interact with on a daily basis. Her work is also a reminder that art can be both beautiful and unusual.
Anna Bobkova is an artist and photographer living in Taiwan, a place that has fallen on hard times in recent years. Anna has a unique visual style through which she captures the underside of the unusual way of life of ordinary islanders at a crossroads and perhaps on the threshold of great change.
Through Anna's photographs, in which the main character is often not even a person, but a mood, one can feel the slowing down of time, injustice, warmth and longing that envelop the artist's environment. Anna Bobkova is currently working on a series of photographic works and installations that she plans to exhibit in Berlin at the end of this year. Anna is one of the contemporary artists who use her art to address important issues and change the world for the better.
Naila Kublashvili is an artist who is currently delighting us with her large-scale and specific installations. Her works often use everyday objects, and in surprising ways. For example, in her recent works, she has created spectacular portraits of people, animals and even still lifes. It's amazing to see that she can make such remarkable works from such simple ingredients that appeal to the eye. Her work often depicts women in different stages of life, and she conveys the strength and beauty of these women in her paintings.
For Naila's works, color is important as a transmission of an impression, an emotion that she experiences at the moment of creation or while immersed in memories of a place, a person, an experience or a planned event. The artist with a unique vision prefers juicy, bright, light colors in her works as a manifestation of the best feelings: hope, love, interest, thirst for life.
Kristina Baeva, a wonderful artist and performance artist asks the questions "Would you like to change your life?", "What would be your first step, your first action, towards change?" These are questions we encounter in one way or another in the journey of our lives. Imagine, you live up to a certain point following clear instructions, you have a ready-made plan of action, but one day the pamphlet called "Exploiting Life" runs out. How would you feel?
Kristina Baeva, as a performance artist, decides to go back to the very beginning and face her fears in order to finally understand why her life has turned out this way and why she so often looks for a "back door".
Anatoly Tumanov is a contemporary artist and photographer who creates stunningly beautiful artistic performance photography. His work is often calming and soothing, reminding us of the beauty of nature and man. Anatoly's photographs are highly symbolic.
"Everyone is looking for their own way of self-expression and the source of values, regardless of where they are dislocated. Hands unleashed is what constitutes true interest", — says the photographer. Anatoly Tumanov metaphorically tells us that even in the midst of total chaos one can always find incredible and inspiring beauty.
Cover photo: Naila Kublashvili, "My Worlds", fragment 
---
Read more:
The trauma and beauty of the collapsing world in works of modern artists 
Expressions of Emotional Experience in the Works of Contemporary Artists
Kir Simakov, a photographer: "Truthful portraits are always fascinating"
×
SUBSCRIBE
Receive our digest once a week with quality Russian events and articles
SUBSCRIBE
Receive our digest once a week with quality Russian events and articles