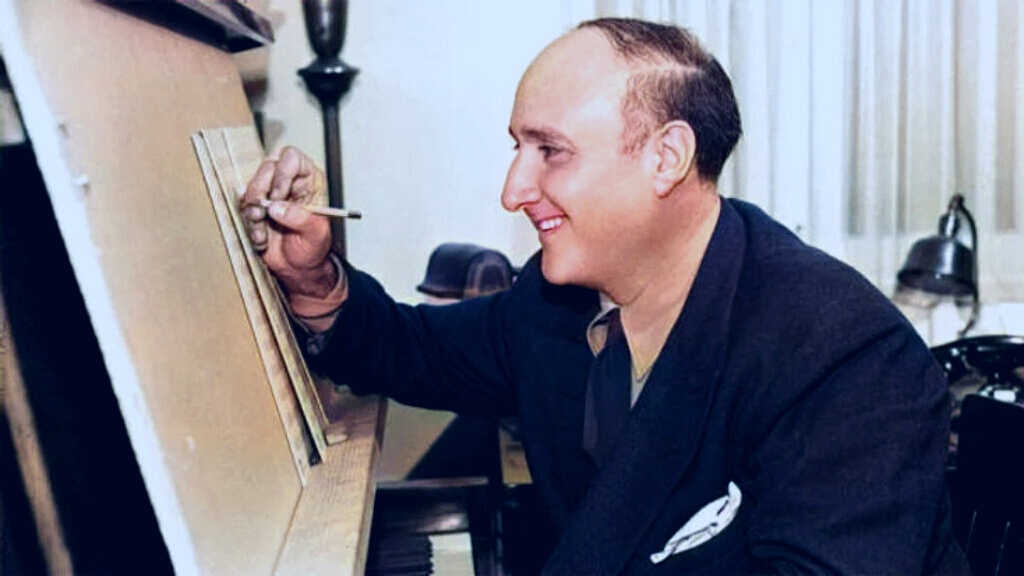 How Composer Dimitri Tiomkin Conquered Hollywood
Dimitri Tiomkin was a pianist, composer and four-time Oscar winner best known for his scores for such films as Dial M for Murder, High Noon, Rio Bravo, and The Old Man and the Sea. His music is featured in the iconic drama It's a Wonderful Life, a Christmas Eve staple in the USA, so almost everyone has heard his work at least once. In Russia, he is mainly remembered for Tchaikovsky and, of course, Mackenna's Gold – one of the highest-grossing films in the history of Soviet cinema. Afisha.London magazine's columnist, Tatiana Efimova, talks about the brilliant career the composer built in Hollywood while in exile and about his contribution to the development of music in film.
Dimitri Tiomkin was born into a Jewish family in 1894. His mother taught the future composer how to play the piano and passed on her love of music to her son. At the age of 13, he entered the Saint Petersburg State Conservatory and enrolled in the class of Professor Glazunov, a student of Rimsky-Korsakov. In his free time, Dimitri worked as a pianist – he dubbed silent films in the cinemas of Saint Petersburg and spent time with his friend, Sergei Prokofiev. It was an era of new trends, and young people were interested in everything. Symbolism reigned in poetry, cubism burst into art, while the rhythms of American ragtime, jazz and blues exploded the world of music.
Dimitri Tiomkin with his mother (circa 1900)
Dimitri Tiomkin
In 1917, the composer ended up behind bars. While visiting his acquaintance who was arrested by the Bolsheviks, Tiomkin could not leave the prison cell, as the guard refused to let him out without a pass, even though the young man could enter freely without it. By a happy coincidence, Tiomkin managed to hand over a note to his conservatory professor, and a few days later, the composer was released. Despite all the horrors he experienced, Dimitri Tiomkin did not immediately leave Russia. After the Revolution, he participated in the production of a mass spectacle, The Storming of the Winter Palace, which involved over six thousand artists, including 500 musicians. But soon, he decided to leave his homeland after all: he first went to Germany to visit his father and then to Paris to give concerts.
Read more: Charlie Chaplin: A "Communist" and a Favourite of the Soviet Public
In Paris, the composer met with Feodor Chaliapin, who advised him to go to the USA, where European musicians were very successful, and in 1925 Tiomkin went to America. There he got a job as a répétiteur in the ballet troupe of Albertina Rasch, an Austrian ballerina who soon became his wife. However, Tiomkin did not stop giving concerts. He introduced the American public to the works of Scriabin and Ravel while also presenting his own compositions. In 1928, he performed Gershwin's Rhapsody in Blue for the first time in Europe. The premiere was attended by Gershwin himself, as well as by Diaghilev and Prokofiev.
Dimitri Tiomkin with his wife
Dimitri Tiomkin with an Oscar
Tiomkin began working in Hollywood in 1929 when his wife's ballet troupe took part in the filming of The Broadway Melody. Soon she began to stage performances for musicals while Tiomkin, in turn, wrote music for them. A significant event for the composer was meeting director Frank Capra and working with him on the film Lost Horizon, the music for which was nominated for an Oscar. From that moment on, Tiomkin's brilliant career in Hollywood began. He was nominated for an Oscar 22 times and won four times: for High Noon (Best Scoring and Best Song, 1953), The High and the Mighty (Best Original Music Score, 1955) and The Old Man and the Sea (Best Original Score, 1958), adapted from an Ernest Hemingway novel. During his time in Hollywood, Tiomkin wrote music for more than 160 films and worked with the best directors: Alfred Hitchcock and Howard Hawks, George Stevens and William Wyler.
Read more: Boris Anrep in London: A Don Juan and the Love of Anna Akhmatova
Tiomkin's last project was writing music for Tchaikovsky, which was filmed in 1969 in the USSR with Innokenty Smoktunovsky in the lead role. This job allowed Tiomkin to visit his homeland for the first time since 1921 and also for the last time. Tchaikovsky was nominated for two Oscars: Best Original Score (Dimitri Tiomkin) and Best Foreign Language Film. Another landmark of that period in the USSR was the Western McKenna's Gold, produced by Tiomkin.
Dimitri Tiomkin with his wife
Dimitri Tiomkin
Tiomkin went down in history as a pioneer of the Western genre in music. When asked how he feels the poetics of the plains of the American West so subtly, while himself being a Russian, Tiomkin replied: "A steppe is a steppe!". The composer preferred to use the word steppe instead of the traditional American prairie. In his autobiography, he wrote: "The problems of the cowboy and the Cossack are very similar. They share a love of nature and a love of animals. Their courage and their philosophical attitudes are similar, and the steppes of Russia are much like the prairies of America".
The composer died in London in 1979, but his music is immortal. For example, Quentin Tarantino's Inglourious Basterds begins with Dimitri Tiomkin's theme song from The Alamo. At the same time, music composition departments at universities across America include his legacy in their curriculums. Even though Tiomkin died in the British capital, he was not buried there and was reunited with Hollywood after death. His grave is located at Forest Lawn Memorial Park in Los Angeles, where many other stars of the Golden Age are also buried. In 1999, a series of stamps, Legends of American Music, dedicated to the best composers of Hollywood was issued in the United States. One of them depicts an honorary citizen of Texas – composer Dimitri Tiomkin.
Tatiana Efimova
---
Read more:
The Life of Sergei Rachmaninoff and His Visits to the UK
Russian Emigration a Hundred Years Ago and Now: What United the Two Generations?
Array ( [related_params] => Array ( [query_params] => Array ( [post_type] => post [posts_per_page] => 5 [post__not_in] => Array ( [0] => 100151 ) [tax_query] => Array ( [0] => Array ( [taxonomy] => category [field] => id [terms] => Array ( [0] => ) ) ) ) [title] => Related Articles ) )
×
SUBSCRIBE
Receive our digest once a week with quality Russian events and articles
SUBSCRIBE
Receive our digest once a week with quality Russian events and articles