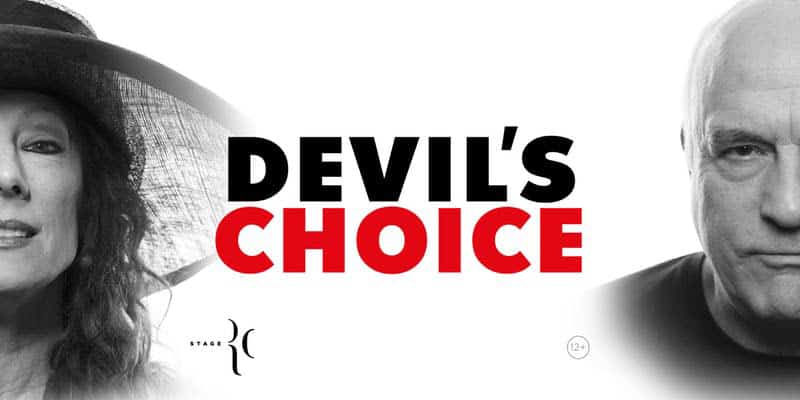 Russian play in English: Devil's Choice
12 April, 2019
A play Devil's Choice, written by the founder of the theater company Stage RC Irina Ioannesyan and a Russian journalist and poet Natella Boltyanskaya, was first performed in Russian in London in May 2018, directed by Alesya Mankovskaya. Following a number of successful performances that received many positive reviews, its creators decided to move forward – this year Devil's Choice will be performed in English starring British actors.
In the English version Naomi Sorkin will replace the Soviet and Ukranian star Ada Rogovtseva, and instead of Victor Shenderovich it will be the actor and founder of The Playground Theatre Peter Tate to go on stage to play the leading role.
The original production was the acting debut for the well-known writer, poet and playwright Victor Shenderovich – for the first time he came up on stage not in order to read his own works, but as a member of the cast. What also made this play unique was the magnificent Ada Rogovtseva who agreed to take part in it after years of rejecting projects on the side. Both artists immediately fell in love with this daring satirical production, rich with witty dialogue lines and unexpected plot twists.
The play itself is a fantasy on the eternal topic of the struggle between good and evil, kind of an interpretation of the legend of Faust and selling the soul in exchange for what one desires the most. Here it is a mother of three adult children who meets the devil, and he offers her to fix some mistakes from her past. And, of course, asks a lot in return.
«The question of choice has always been important to me. I think that the ability to make a choice, even if it's a wrong one, – is the key to your success and happiness, – says Irina Ioannesyan. – There are so many temptations around and you come across them all the time. You always choose. But you have to stay yourself and remember what's important to you, what your values in life are. To listen to yourself».
Easygoing and ironic, the play, based on the experience of the previous shows, grabs the audience's attention from the very first seconds, and while being entertaining, at the same time makes you think about some important things in life. This year the English-speaking audience will get a chance to get acquainted with it.
Devil's Soul
When: 25 – 28 April
Where: The Playground Theatre
Tickets
×
SUBSCRIBE
Receive our digest once a week with quality Russian events and articles
SUBSCRIBE
Receive our digest once a week with quality Russian events and articles