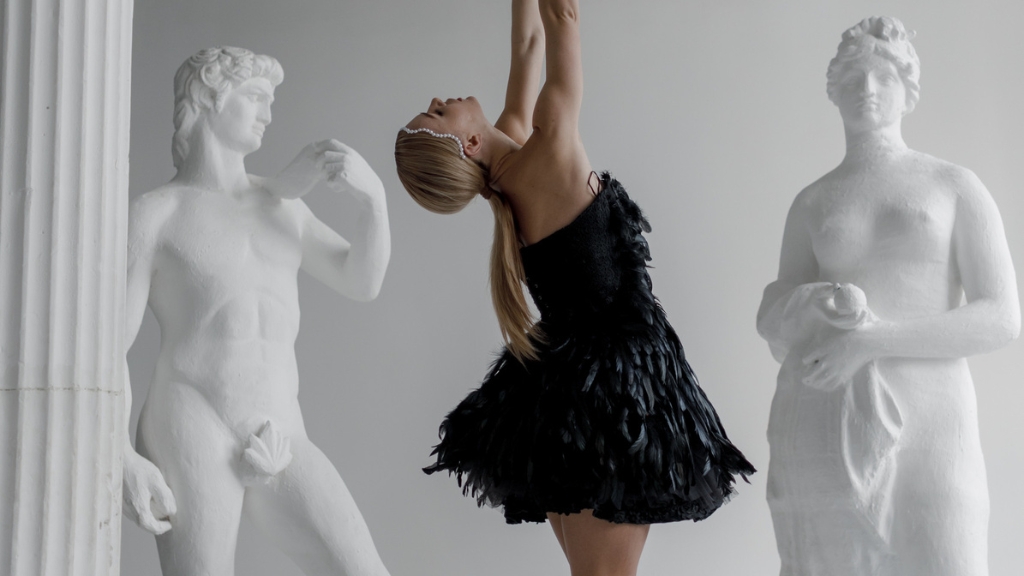 Exploring the World through Words, Camera Lenses, Brushes and Performances
Each of us perceives the world in our own way, noticing beauty and hidden meanings in things that may seem ordinary to others. Thanks to art we can convey our unique vision via various techniques, allowing other people to understand our feelings, emotions and thoughts. Afisha.London magazine talks about artists who use painting, photography, sculpture and other art forms in order to let others see the reality from their perspective.
Anna Lukashenok is a poetess whose work reflects the acceptance of the course of life and admiration of its minor details. This is combined with a sad, almost tragic narrative. Her poetry has many references to death, which are intertwined with natural images. There is an abundance of visuals in Anna's art – this is because, in addition to writing poetry, Anna also draws. Images become phantasmagoric and striking literary narratives. Through the prism of Anna's perception, the world appears majestic and sad, filled with the smell of fresh earth and rain. Those images are conserved in themselves and combine narcissism with despondency: this artistic technique is genuinely fascinating.
Anna Lukashenok
Anna Lukashenok
---
In her art, Zhanar Bereketova explores physicality through performances and installations. She focuses on tension, gravity, and motion. In street art, the medium of elastics is an exciting and fresh choice. Elastics is a series of site-specific installations. The chosen medium creates tension and becomes a spatial event. The installations appear either where nothing ever happens anymore (abandoned places) or should happen soon (empty city sites). The elastics fill in the emptiness, both physical and conceptual. Zhanar's work is poetically fragile and reflects the tension within and around us.
---
Anastasiia Chernykh is a talented sculptor and artist working with different techniques and materials. The ongoing research of cultures, traditions and folklore from around the world helps her convey a unique spirit and aesthetic through memorable and eye-catching images and synthesis of human and natural. One of the artist's main objects is the figure of a horse, which manifests itself in all its diversity and reflects the centuries-old history of partnership and interaction. Examples of such works are the bas-reliefs, The Kelpie and El Dia de Muertos, which reflect the local beliefs of the peoples of Scotland and Mexico. Similar yet so different, these mythological images remind us of life and death and the importance of appreciating the world around us.
Anastasiia Chernykh
Anastasiia Chernykh
---
For Yulia Rantseva, photography is a tool that helps uncover new meanings and the sharpness of the modern reality surrounding us. For example, the project Gods among Men reflects a person's attempt to achieve an ideal body and raises the question of how it can be reached and by whom it was formulated. Her characters seem to exist within an unusual perspective on the issue: the man is calm and focused while the woman is, both literally and metaphorically, in limbo, and her hands are tied with a bandage. Antique heroes look bored and indifferent: their time is long gone, but they continue to inform our understanding of beauty. Or is it in the eye of the beholder? Yulia Rantseva's photographic vision reveals topical issues, forcing viewers to think about everyday things and conceptual questions. What is beauty? How fragile is the human body? What influences our perception of aesthetics?
Yulia Rantseva
Yulia Rantseva
---
Ksenia Kudasova transforms complex and topical themes into fabulous installations and performances accessible to a wide range of audiences thanks to folklore artistic tropes in their broader sense. Folklore tropes are based on Ksenia's studies of the morphology of legends, ancient myths, local theatrical forms (butoh, puppet theatre), jokes from the 90s, demotivators of the 00s and popular memes of the 2020s. Such topics as subjective time and memory, bionics and conspiracy theories form the foundations of her fairy tale narratives. Thanks to the careful approach through basic and familiar images, these narratives make viewers go beyond the apparent simplicity of myths and legends. The artist's mission is to form such discussions around complex topics that would be equally interesting to both children and adults (as well as their inner children).
Ksenia Kudasova
Ksenia Kudasova
---
Irina Uva is an independent artist and illustrator specialising in traditional and digital media. Raised in a megapolis, Irina likes to travel to big cities, capturing the instant beauty of people, city characters and the aesthetics of their temperament: in details, movements, gestures and outlines. In her artworks, Irina addresses a particular lifestyle, revealing the singularity and richness of the art of life. She specialises in illustrating lifestyle and sports while creating high-fashion or street-style images. She is also attracted to retro motifs and details, where she finds a very intense concentration of aestheticism.
Irina Uva
Irina Uva
Irina works with flat images, using a limited palette and choosing contrasting but understated combinations. She frequently employs grotesques, concentrating on how linear forms convey the plasticity of the movements and postures and the unique rhythmics of the characters. Her artistic style can be defined as intimate, charming and popish; it refers to the vital energy of metamodern art and the substantially plural culture of the 21st century.
Cover Photo: Yulia Rantseva
---
Read more:
Russian Emigration a Hundred Years Ago and Now: What Unites the Two Generations?
The Life of Sergei Rachmaninoff and His Visits to the UK
Array ( [related_params] => Array ( [query_params] => Array ( [post_type] => post [posts_per_page] => 5 [post__not_in] => Array ( [0] => 97343 ) [tax_query] => Array ( [0] => Array ( [taxonomy] => category [field] => id [terms] => Array ( [0] => ) ) ) ) [title] => Related Articles ) )
×
SUBSCRIBE
Receive our digest once a week with quality Russian events and articles
SUBSCRIBE
Receive our digest once a week with quality Russian events and articles