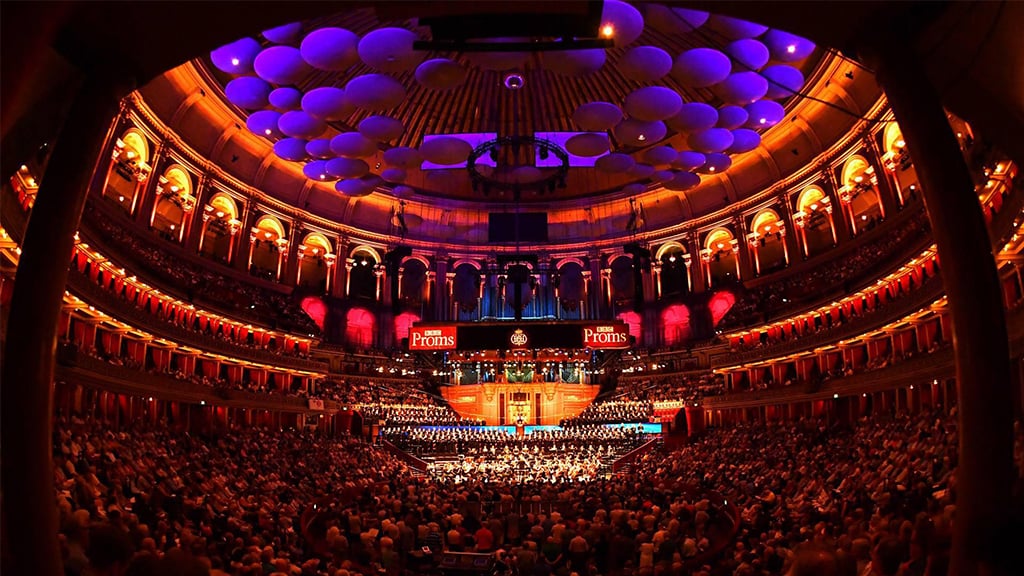 Russian music at BBC Proms 2021
London's cultural life is slowly returning to its usual pace, which means that everyone's beloved classical music festival, BBC Proms, is making a comeback. The six-week live music festival, which runs from July 30 to September 11, will feature 30 orchestras and ensembles, over 100 soloists and conductors, and over 2,000 musicians. According to our tradition, Afisha.London magazine prepared a list of concerts with a Russian touch.
In 1895, conductor Henry Wood founded the annual Proms Festival, which aims to bring the best of classical music to the widest possible audience, making classical music available to everyone. The very idea of ​​introducing classical music to the general public came from informal outdoor promenade concerts that were held in London's parks in the past. From there began the tradition to watch these concerts while standing — today it is called "promming" and means that one can buy tickets to the festival for approximately £6, which is incredibly cheap for such an event at Royal Albert Hall. Holders of these tickets can stand in the gallery or in the space between the parterre and the stage.
This summer, The Proms are ready to welcome the audience to the Royal Albert Hall for a full six weeks from July 30 to September 11. Each concert will be broadcast live on BBC Radio 3 and BBC Sounds, and twenty of them will also be shown on TV and BBC iPlayer. Festival's programme includes many concerts featuring Russian music or Russian musicians, as well as those from post-Soviet countries. Afisha.London shares a specially curated list of BBC Proms 2021 concerts with a Russian touch.
Follow us on Twitter for news about Russian life and culture
---
Maxim Emelyanychev and the Scottish Chamber Orchestra
On August 1, Scottish Chamber Orchestra and their young Principal Conductor Maxim Emelyanychev will showcase Mozart's three final symphonies — composed over a period of just two months in the summer of 1788. Details and tickets.
Vasily Petrenko and Sayaka Shoji perform Respighi's Concerto
On August 4, conductor and Music Director of the Royal Philharmonic Orchestra Vasily Petrenko teams up with Japanese violinist Sayaka Shoji for Respighi's vivacious Concerto gregoriano. Details and tickets.
BBC Scottish Symphony Orchestra celebrates Stravinsky
On 6 August, Portuguese conductor Joana Carneiro joins the BBC Scottish Symphony Orchestra to mark the 50th anniversary of Stravinsky's death with a concert featuring the composer's ballet Pulcinella inspired by Pergolesi's music.Details and tickets.
Prokofiev performed by the National Youth Orchestra of Great Britain
On August 7, Nicola Benedetti teams up with rising star Jonathon Heyward and the talented teenagers of the National Youth Orchestra of Great Britain, together they will perform Prokofiev's Violin Concerto No. 2. Details and tickets.
Kirill Karabits and the Bournemouth Symphony Orchestra
On August 9, the Bournemouth Symphony Orchestra returns under Chief Conductor Kirill Karabits to perform Janáček's rhapsodic suite Taras Bulba, which looks back to Czech folk music in three battle-charged episodes from Gogol's novella. Details and tickets.
Stravinsky and Rachmaninov performed by the Aurora Orchestra
On August 11, the Aurora Orchestra performs from memory the colourful 1945 suite from Stravinsky's ballet The Firebird. The concert opens with another Russian classic: Rachmaninov's virtuosic Rhapsody on a Theme of Paganini with Pavel Kolesnikov as soloist. Details and tickets.
Vladimir Jurowski and the London Philharmonic Orchestra
On 12 August, Vladimir Jurowski makes his final appearance as the London Philharmonic Orchestra's Principal Conductor after nearly 20 years. The programme includes the music from Stravinsky's ballet Jeu de cartes. Details and tickets.
Prokofiev and Shostakovich performed by the Philharmonia Orchestra
On August 14, the Philharmonia Orchestra and its dynamic Finnish Principal Conductor Designate Santtu-Matias Rouvali will perform Prokofiev's playful Classical Symphony and Shostakovich's compact Symphony No. 9. Details and registration.
Stravinsky performed by Shiva Feshareki
On August 19, experimental composer and turntablist Shiva Feshareki joins Sofi Jeannin and the BBC Singers for a choral playlist colliding the Renaissance with the present day. The programme includes Stravinsky's music. Details and tickets.
Stravinsky anniversary at the Royal Albert Hall
On 22 August, legendary conductor Sir Simon Rattle joins his colleagues at London Symphony Orchestra to mark the 2021 Stravinsky anniversary. Details and tickets.
Follow us on Twitter for news about Russian life and culture
---
The list of events with Russian music and artists will be supplemented with several more concerts after the performers clarify the details of their repertoire. A full list of BBC Proms 2021 events can be found here. The festival will take place from July 30 to September 11.
Cover photo: BBC/Proms
---
Read more:
Anna Karenina: a Russian classic reimagined in Britain
Swan Lake: Unusual Interpretations of the Timeless Classic
×
SUBSCRIBE
Receive our digest once a week with quality Russian events and articles
SUBSCRIBE
Receive our digest once a week with quality Russian events and articles